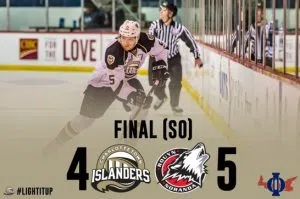 The Charlottetown Islanders put up a valiant effort against the Q's top team and gained a valuable point in the standings despite losing 5-4 in a shootout to the Rouyn Noranda Huskies.
The Isles led 4-2 before the Huskies tied up it 4-4 with 15 seconds left in regulation.
Felix Bibeau scored the shootout winner.
Lukas Cormier scored twice for the Islanders and Daniel Hardie got his 27th of the season.
Liam Peyton also scored. The Islanders are 25-11-4.
 —
Hot Cape Breton dropped Shawinigan, 4-1 and moves into second in the Maritimes Division a point up on the Islanders and just six points back of first place Halifax.
Saint John over Acadie-Bathurst, 5-1.
—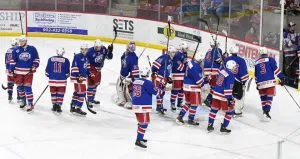 LUCKY SEVEN FOR HOT CAPS
The Summerside Western Capitals made it seven straight wins as they blanked Miramichi, 5-0 on the road.
Dominek Tmej with 22 saves in the nets. Brodie MacArthur scored three times. Sullivan Sparkes had a goal and two assists.  Summerside is 26-5 and in first place in the MHL's North Division.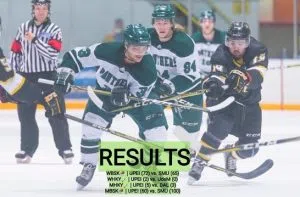 UPEI WINS 3 OF 4  SATURDAY
Gabe Guertler enjoyed a natural hat-trick scoring three in a row as the UPEI men's Panthers won 5-3 at Dalhousie.
 Filip Rystrom and Beni Berisha added singles. The Panthers are 11-8-2.
UNB took its first regulation time loss bowing 4-2 to St. F.X.  The Reds are 18-1-3 in first place.
Saint Mary's over Acadia, 5-2.
 —
The UPEI women Panthers shutout Moncton, 2-0.
Camille Scherger made 35 saves in the nets.
Emma Weatherbie and Rachel Colle both had a goal and assist.  UPEI is 10-8-1 and tied for 4th in the conference.
—
First place UPEI over Saint Mary's, 72-65 in AUS basketball. Carolina Del Santo had 20 points and 18 rebounds. UPEI is 9-1 and tied for first with Cape Breton in the women's conference.
 —
The men Panthers lost 100-60 to the unbeaten Huskies and fall to 3-7.
—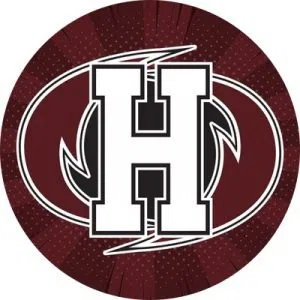 HURRICANES MEN STAY UNBEATEN
Holland College men now 9-0 as they downed UNB Saint John, 108-91. Jace Colley had 19 points and 18 rebounds.
 —
The women's Canes lost 78-50 to UNB. Desiree Oakley with 18 points in the loss.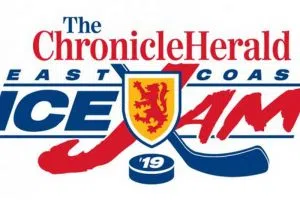 WILD INTO FINALS

The Kensington Wild heading to the final of the East Coast Ice Jam in Halifax in Major Midget.
The Wild skating past the Cape Breton West Islanders in the semi-final this morning, 4-1,
Kensington will meet the team it's battling for first in the New Brunswick-PEI league, the Moncton Flyers.
Moncton got by the Saint John Vitos, 2-1 late in a 10-minute overtime.
—
PEI HOCKEY
The Western Regals now 20-0 in PEI Midget AAA after a 9-1 win over the Pownal Red Devils.
—
Moncton over the Eastern Maniacs in Jr. B.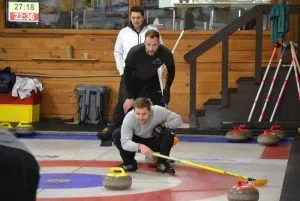 TANKARD & SCOTTIES CURLING 
John Likely got by defending champion Eddie Mackenzie, 6-5 in a Sunday morning draw in the PEI Tankard final.
Suzanne Birt held off Sarah Fullerton, 7-6 in the Scotties and plays Veronica Smith at 2.00 at the Western Curling Club in Alberton.
Birt looking for a 10th trip to the national Scotties.
HARNESS HILITES
Intended Royalty took the feature at Red Shores in Charlottetown in 1.59/4 with a strong stretch drive winning over Euchred. Mike McGuigan in the bike.
Marc Campbell with four winners for the day.
—
ON TODAY
Following a tough 5-4 shootout loss to the front running Rouyn-Noranda Huskies, the Charlottetown Islanders visit the Moncton Wild Cats in another key game this afternoon in the Q.
The Islanders enter the game a point up for third place in the Maritime Division over Moncton and a point back of second place Cape Breton. Charlottetown has won 6 of 10.
—
The Island Storm snapped a 10-game losing streak on Friday night and will look for a second straight win in the NBL hosting the Halifax Hurricanes this afternoon.
Game time is 2.00 at the Eastlink Centre.
—
Mount Allison visits Holland College in women's and men's basketball at 2.00 and 4.00. The men's Canes are unbeaten at 9-0.
—
Island Jr. B tonight at 7.00 the Kensington Vipers host the Western Red Wings.
 —
Moncton at Mid Isle in Crapaud in Midget AAA.
 —
Sherwood at Tignish at 7.45 in Jr. C.
—
OCEAN 100 SCOREBOARD
Saturday's Games
NFL Post-season
Division Playoffs
Kansas City 31 Indianapolis 13
L.A. Rams 30 Dallas 22
—
NHL
New Jersey 3 Philadelphia 2
N.Y. Rangers 2 N.Y. Islanders 1
Boston 3 Toronto 2
Columbus 2 Washington 1 (OT)
Tampa Bay 5 Buffalo 3
Montreal 3 Colorado 0
Detroit 5 Minnesota 2
Vegas 4 Chicago 3 (OT)
St. Louis 3 Dallas 1
Arizona 3 Edmonton 2
San Jose 4 Ottawa 1
Los Angeles 5 Pittsburgh 2
—
AHL
Rochester 5 Toronto 1
Charlotte 5 WB/Scranton 3
Grand Rapids 5 Belleville 2
Hartford 4 Bridgeport 2
Laval 6 Manitoba 5 (SO)
Utica 3 Syracuse 2
Binghamton 5 Cleveland 4
Hershey 3 Lehigh Valley 0
Providence 4 Springfield 3
San Antonio 4 Rockford 3
San Diego 5 Milwaukee 2
Texas 4 Iowa 2
Stockton 6 Ontario 5 (OT)
Bakersfield 2 Colorado 0
Tucson 3 Chicago 2
—
NBA
Detroit 109 L.A. Clippers 104
Miami 112 Memphis 108
Orlando 105 Boston 103
Minnesota 110 New Orleans 106
Oklahoma City 122 San Antonio 112
Phoenix 102 Denver 93
Sacramento 104 Charlotte 97
Utah 110 Chicago 102
—
Sunday's Games
(All Times Eastern)
NFL Post-season
Division Playoffs
L.A. Chargers at New England, 1:05 p.m.
Philadelphia at New Orleans, 4:40 p.m.
—
NHL
Nashville at Carolina, 12:30 p.m.
N.Y. Rangers at Columbus, 6 p.m.
Anaheim at Winnipeg, 6 p.m.
Florida at Vancouver, 7 p.m.
Tampa Bay at N.Y. Islanders, 7 p.m.
Arizona at Calgary, 9:30 p.m.
—
AHL
Springfield at Providence, 3:05 p.m.
Lehigh Valley at Hershey, 5 p.m.
Stockton at San Jose, 6 p.m.
—
NBA
Detroit at L.A. Clippers, 3:30 p.m.
Memphis at Miami, 5 p.m.
Boston at Orlando, 7 p.m.
New Orleans at Minnesota, 8 p.m.
San Antonio at Oklahoma City, 8 p.m.
Denver at Phoenix, 9 p.m.
Charlotte at Sacramento, 10 p.m.
Chicago at Utah, 10 p.m.