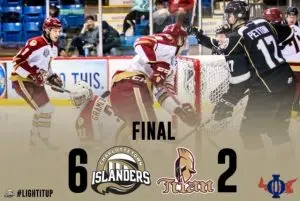 The Charlottetown Islanders made it six straight wins against the visiting Acadie-Bathurst Titan in the Q with a 6-2 effort last night at the Eastlink Centre
The Isles take over third place in the Maritimes Division with the victory and they are just 3 points out of first place behind Halifax The Islanders led by Daniel Hardie's four point night. Jordan Maher added a goal and two assists as he continues his hot scoring since arriving in a trade from Halifax.
HOT HARDIE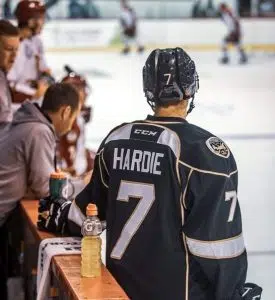 Hardie had another big night with two goals and two assists. Hardie has 22 goals in 26 games and is tied for second with 25 goals in the league.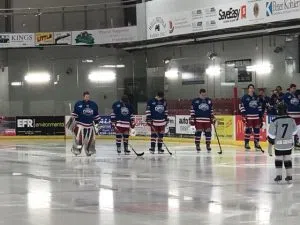 CAPS CRUISE TO WIN
T.J. Shea had another big night as the Summerside Western Capitals ran over the last place Valley Wild Cats, 7-1 in the MHL.
Shea scored four times and leads the league with 24 goals and 55 points.
The Caps improve to 21-5 in first place in the North.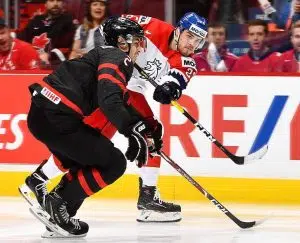 WORLD JUNIOR
Morgan Frost had a goal and assist helping Team Canada to a 5-1 win over the winless Czech Republic in the World Jr. Hockey Championship in Vancouver.
Canada is 3-0 and plays Russia tomorrow.
Sweden got by Team USA, 5-4 in overtime on goal by Adam Boqvist. The Americans had rallied for 4 third period goals, down 4-0.
Finland skated past Slovakia, 4-1.
Switzerland dropped Denmark, 4-0.
SPENGLER CUP SEMI-FINALS
Canada meets Nurnberg, Germany in the Spengler Cup semi-finals this morning. The Canadians are 2-0 and include former PEI Rocket Maxime Lapierre and assistant coach Gordie Dwyer.
NHL
The NY Islanders surprised the Toronto Maple Leafs with a dominant 4-0 win on the Leafs home ice. Mathew Barzal scored a natural hat-trick.
—
Montreal enjoyed 3-2 and 5-4 leads but lost 6-5 in Tampa Bay as the Lightning continued their hot December with 13 wins in 14 games.
—
Washington led 3-0 and held on to beat Ottawa, 3-2.
—
San Jose over Edmonton, 7-4. Erik Karlsson had a goal and three assists for the Sharks. The Oilers have lost 5 straight.
—
Boston got by Buffalo, 3-2 in overtime.
—
Vancouver edged Calgary, 3-2 in OT.
ISLAND HOCKEY
Moncton doubled Kensington, 4-2 in Major Midget. The Flyers take over first place by 2 points on the Wild.
—
The Western Regals are 18-0.  The Regals downed the Central Attack, 8-2 in PEI Midget AAA on Saturday night as they continue to roll.
Sherwood got by the Eastern Maniacs, 2-1 in Jr. B.
—
The Eastern Express trimmed the Prince County Warriors, 2-1 in Bantam AAA.
—
Sherwood over South Side, 4-2 and North River stopped Summerside, 5-2 in Jr. C.
EXHIBITION BASKETBALL
Holland College was impressive in a 100-91 loss to St. F.X. in exhibition basketball in Halifax.
—
ON TODAY
The Western Regals  continue to roll. They are 18-0 in PEI Midget AAA after stopping the Central Attack, 8-2.
–
The Regals host Kings County at 1.30 today in Alberton.
 —
Fredericton at the Charlottetown Pride at 1.45.
 —
Kensington visits the Western Red Wings in Island Jr. B in Evangeline at 2.15.
 —
The Central Attack at Mid Isle in Crapaud at 4.30 in Bantam AAA.
 —
OCEAN 100 SCOREBOARD
(All times Eastern)
World Junior Hockey Championship
At Vancouver
Switzerland 4, Denmark 0
Canada 5, Czech Republic 1
At Victoria, B.C.
Finland 5, Slovakia 1
Sweden 5, United States 4 (OT)
—
Spengler Cup
Quarterfinals
Nurnberg 3, Metallurg 1
HC Davos 3, HC Ocelari Trinec 1
—
NHL
New Jersey 2, Carolina 0
San Jose 7, Edmonton 4
Minnesota 3, Winnipeg 1
Vegas 4, Los Angeles 1
Boston 3, Buffalo 2, OT
N.Y. Islanders 4, Toronto 0
Tampa Bay 6, Montreal 5
Florida 2, Philadelphia 1
Washington 3, Ottawa 2
Pittsburgh 6, St. Louis 1
Dallas 5, Detroit 1
N.Y. Rangers 4, Nashville 3
Chicago 3, Colorado 2, OT
Arizona 5, Anaheim 4, OT
Vancouver 3, Calgary 2, OT
—
AHL
Charlotte 5, Laval 4, OT
Belleville 3, Binghamton 2
Bridgeport 3, Hartford 2, OT
Grand Rapids 4, Cleveland 3, SO
Iowa 3, Milwaukee 1
Providence 4, Hershey 1
Syracuse 4, Springfield 3, OT
Utica 4, Rochester 3
WB/Scranton 7, Lehigh Valley 3
Chicago 2, Rockford 1, OT
Texas 5, Ontario 1
Stockton 3, Tucson 2
San Diego 3, Bakersfield 2, OT
—
NBA
Milwaukee 129, Brooklyn 115
Houston 108, New Orleans 104
Washington 130, Charlotte 126
Atlanta 111, Cleveland 108
Boston 112, Memphis 103
Utah 129, New York 97
Denver 122, Phoenix 118
Golden State 115, Portland 105
San Antonio 122, L.A. Clippers 111
—
Sunday's Games
(All times Eastern)
World Junior Hockey Championship
At Vancouver
Switzerland vs. Russia, 8 p.m.
At Victoria, B.C.
Kazakhstan vs. Slovakia, 10:30 p.m.
—
Spengler Cup
Semifinals
Nurnberg vs. Canada, 9:10 a.m.
HC Davos vs. KalPa Kuopio, 2:15 p.m.
—
NHL
Vegas at Arizona, 8 p.m.
—
AHL
Colorado at Manitoba, 3 p.m.
Springfield at Hartford, 3 p.m.
Providence at Hershey, 5 p.m.
Texas at San Antonio, 6 p.m.
San Diego at San Jose, 8 p.m.
—
NBA
Detroit at Orlando, 3:30 p.m.
Chicago at Toronto, 6 p.m.
Minnesota at Miami, 6 p.m.
Oklahoma City at Dallas, 7 p.m.
Philadelphia at Portland, 9 p.m.
Sacramento at L.A. Lakers, 9:30 p.m.
—
NFL
Miami at Buffalo, 1 p.m.
Atlanta at Tampa Bay, 1 p.m.
Jacksonville at Houston, 1 p.m.
Dallas at N.Y. Giants, 1 p.m.
Detroit at Green Bay, 1 p.m.
N.Y. Jets at New England, 1 p.m.
Carolina at New Orleans, 1 p.m.
Arizona at Seattle, 4:25 p.m.
L.A. Chargers at Denver, 4:25 p.m.
Oakland at Kansas City, 4:25 p.m.
San Francisco at L.A. Rams, 4:25 p.m.
Philadelphia at Washington, 4:25 p.m.
Chicago at Minnesota, 4:25 p.m.
Cincinnati at Pittsburgh, 4:25 p.m.
Cleveland at Baltimore, 4:25 p.m.
Indianapolis at Tennessee, 8:20 p.m.