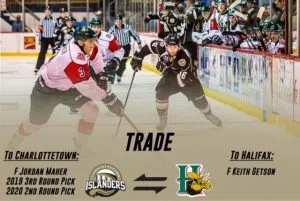 GETSON IS GONE
The Charlottetown Islanders and Halifax Mooseheads have swapped a pair of 20 year-old centres.
Keith Getson, who spent 4 1/2 seasons in Charlottetown heads to the Mooseheads and will play in the Memorial Cup tournament in May as Halifax hosts.
In return the Islanders receive Newfoundland native Jordan Maher who played on last year's Memorial Cup champs, the Acadie-Bathurst Titan.
The Islanders also get two draft picks.
Maher has 6 goals and 13 assists this season.
Getson has 14 goals and 17 assists in 33 games for the Islanders. He's from Bridgewater, N.S.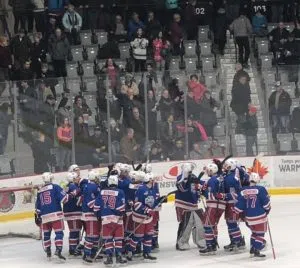 CAPS CRUSH BLIZZARD
The Summerside Western Capitals rolled over the Blizzard in Edmundston, 9-1 to end the first half of the Maritime Jr. Hockey season.
The league's two top scorers fatten their batting average. TJ Shea had a goal and four assists. Brodie MacArthur added a goal and three assists. Cam Roberts also with a goal and 3 assists.
The Caps are 3 points up in Campbellton in the battle for first in the North. The Tigers lost 5-4 to St. Stephen.
PEI HOCKEY
Cameron MacLean had a 3 goals and an assist as the Charlottetown Pride downed the first place Kensington Wild, 6-4 in Major Midget.
—
Riley Gallant with 2 goals as the Kensington Vipers downed the Eastern Maniacs, 4-1 in Jr. B.
—
South Side stopped Summerside, 7-2 in Jr. C.
—
Prince Country over the Central Attack, 8-2 in Bantam AAA.
LEAFS, HABS WIN
Mitch Marner had 2 goals and an assist in Toronto's 5-3 edging of the NY Rangers in the NHL.
Paul Byron scored in overtime as Montreal shaded Las Vegas, 4-3. Philip Danault got his first career hat -trick.
Boston used a four goal third in a 5-2 win over Nashville.
Washington shutout Ottawa, 4-0. Brett Connolly with a goal and assist.
Mark Scheifele had the only goal as Winnipeg got by Vancouver, 1-0.
Tampa Bay doubled Edmonton, 6-3. Steve Stamkos with two goals. Connor McDavid set up all Oilers goals.
Philadelphia surprised Toronto, 126-110 in the NBA with a 35 point fourth quarter.
NBA & NFL
Philadelphia surprised Toronto, 126-110 in the NBA with a 35 point fourth quarter.
—
In the NFL, Tennesse over Washington, 25-16.
Baltimore 16 the L-A Chargers 10.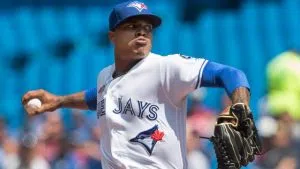 STROMAN ON THE MOVE?
A hot baseball rumour on the go. The San Diego Padres interested in Jays starter Marcus Stroman for prospects.
The players mentioned that would go to the Jays would be a pair minor league pitchers, Michel Baez and Logan Allen. They are ranked San Diego's 7th and 8th prospects.
Stroman had an off year partially due to injury where had a 5.54 ERA in 19 starts. Among the 27 year old's problems was a blister on his pitching hand.
ON TODAY
The Island Storm will try to snap a four game losing streak in NBL basketball. They complete an Ontario road trip in Windsor today facing the Express.
 —
World Jr. exhibition today as Canada takes on Finland in Vancouver.
 —
The NHL has one afternoon game. Columbus at New Jersey.
Tonight's games included Toronto hosting Detroit and Las Angeles in Las Vegas.
Boston at Carolina.
 —
Island Jr. B today.
The Western Red Wings host the Eastern Maniacs at 2.15.
Summerside at Kensington 7.00 tonight.
 —
Bantam AAA has the Eastern Express and Mid Isle facing off at 4.30 in Crapaud.
 —
The NFL has several games with playoff implications.
Buffalo is at New England.
Tampa Bay at Dallas.
Houston at Philadelphia.
The late game is Kansas City at Seattle.