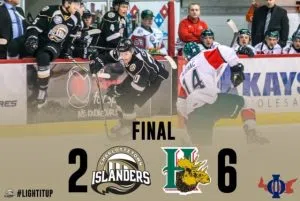 The Christmas break is coming at the right time as the Charlottetown Islanders lost 6-2 in Halifax to the first place Mooseheads in the Q. The Mooseheads have won 7 of their last 8.
That's two losses on the road this weekend. The Islanders have lost 3 of 4 and are 4th in the Maritimes at 20-10-3.
Halifax stays a point up on Moncton with the win.
Jordan Maher scored twice while Sam Asselin scored his 24th.
Daniel Hardie with his 22nd and Keith Getson got his 13th for the Islanders.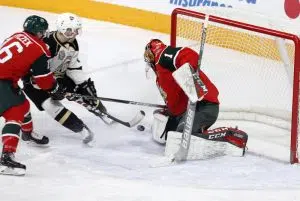 The Islanders take the break and will resume action on Friday, December 28th hosting Halifax.
 —
Summerside's Jeremy McKenna had two assists while Cornwall, PEI defenseman Jordan Spence also had two helpers as Moncton dropped Acadie-Bathurst, 7-1.
McKenna is second scoring in the Q with 25 goals and 59 points.
 —
Cape Breton made it three straight wins with a 3-2 clipping of the Saint John Sea Dogs. Mitchell Balmas with the game winner.
—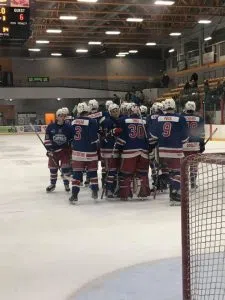 The Summerside Western Capitals won their third in a row as they blanked the County Aces, 6-0 in St. Stephen in the MHL. Dominik Tmej picked up his second straight shutout making 25 saves as the North leading Caps improved to 19-4.
Brodie MacArthur scored twice.
PEI HOCKEY
The Kensington Wild lost 7-3 to Levis, Quebec in the quarter-finals in the CCM Midget AAA tournament in Chicoutimi. The Wild trailed 5-0 in the first but rallied for three in the final period. Kensington went 2-2.
—
The Western Regals are 17-0 in the Island Midget AAA league. The Regals doubled Kings County, 8-4 in Alberton. Sam Hackett led the attack with 2 goals. Chase Gaudette had a goal and 3 assists.
—
The Western Red Wings edged Moncton, 4-3 in Jr. B.
—
Sherwood over South Side, 7-2 and North River dropped Summerside, 7-5 in Jr. C.
—
Island Bantam AAA teams playing on the mainland this weekend.
EDZA stopped the Central Attack, 6-4.
Port City over Mid Isle, 8-2 in Saint John.
Moncton won 8-2 over the Eastern Express.
—
NHL HILITES
Aleksander Barkov scored three goals including the winner in overtime as Florida got by the Toronto Maple Leafs, 4-3.
Montreal errupted for four goals in the 3rd in a 5-2 win over Ottawa. Jonathan Drouin and Shea Weber among the goal scorers.
Pittsburgh edged Los Angeles, 4-3 in overtime. Phil Kessel with the winner on a power play.
Calgary got by Minnesota, 2-1. Matthew Tkachuk had the winning goal in the 3rd.
Vancouver stopped Philadelphia, 5-1. Brock Boeser with a goal and assist.
—
NFL
Houston over the New York Jets, 29-24 in the NFL.
Cleveland got by Denver, 17-16.
—
HARNESS RACING
Eagle Jolt won a photo finish over Confident Fella in 2.00 flat in the 14th race feature at Red Shores in Charlottetown with Marc Campbell behind.
Mike McGuigan had a driving triple including Casimir Obama in the 11th.
—
OCEAN 100 SCOREBOARD
(All times Eastern)
NHL
Calgary 2, Minnesota 1
Anaheim 2, Columbus 1, OT
Montreal 5, Ottawa 2
N.Y. Islanders 4, Detroit 3, SO
Washington 4, Buffalo 3, SO
Pittsburgh 4, Los Angeles 3, OT
Florida 4, Toronto 3, OT
Nashville 2, New Jersey 1, SO
Colorado 6, Dallas 4
Vancouver 5, Philadephia 1
—
AHL
Laval 4, Syracuse 0
Charlotte 3, Hartford 2
Bridgeport 5, Springfield 3
Grand Rapids 5, Milwaukee 4, SO
Rochester 2, Cleveland 1, OT
Texas 3, Rockford 2, OT
Toronto 5, Manitoba 1
Binghamton 3, Belleville 1
Providence 6, Hershey 2
WB/Scranton 5, Lehigh Valley 2
Chicago 4, Tucson 2
Bakersfield 1, Stockton 0
Colorado 4, Ontario 3, OT
San Diego 4, San Jose 3, SO
—
NBA
Orlando 96, Utah 89
Detroit 113, Boston 104
L.A. Lakers 128, Charlotte 100
Houston 105, Memphis 97
Chicago 98, San Antonio 93
Oklahoma City 110, L.A. Clippers 104
Phoenix 107, Minnesota 99
—
NFL
Houston 29, N.Y. Jets 22
Cleveland 17, Denver 16
—
Sunday's Games
(All times Eastern)
NHL
Vegas at N.Y. Rangers, 12:30 p.m.
Arizona at Carolina, 1 p.m.
Calgary at St. Louis, 3 p.m.
Buffalo at Boston, 5 p.m.
Tampa Bay at Winnipeg, 7 p.m.
San Jose at Chicago, 7 p.m.
Edmonton at Vancouver, 10 p.m.
—
AHL
Utica at Charlotte, 1 p.m.
WB/Scranton at Bridgeport, 3 p.m.
Hershey at Springfield, 3:05 p.m.
Iowa at San Antonio, 4 p.m.
Tucson at Chicago, 4 p.m.
Grand Rapids at Rockford, 6 p.m.
San Jose at Ontario, 6 p.m.
—
NBA
Atlanta at Brooklyn, 3 p.m.
Philadelphia at Cleveland, 3:30 p.m.
New York at Indiana, 5 p.m.
L.A. Lakers at Washington, 6 p.m.
Miami at New Orleans, 7 p.m.
Sacramento at Dallas, 7 p.m.
Toronto at Denver, 8 p.m.
—
NFL
Tennessee at N.Y. Giants, 1 p.m.
Green Bay at Chicago, 1 p.m.
Detroit at Buffalo, 1 p.m.
Tampa Bay at Baltimore, 1 p.m.
Arizona at Atlanta, 1 p.m.
Oakland at Cincinnati, 1 p.m.
Dallas at Indianapolis, 1 p.m.
Miami at Minnesota, 1 p.m.
Washington at Jacksonville, 1 p.m.
Seattle at San Francisco, 4:05 p.m.
New England at Pittsburgh, 4:25 p.m.
Philadelphia at L.A. Rams, 8:20 p.m.
---
ON TODAY
The Charlottetown Islanders finished the first half of the Q season with a 6-2 loss in Halifax to the first place Mooseheads.
The Islanders are off until Friday, December 28th for the Christmas break. They are 4th in the Maritimes Division losing 3 of 4 but with 20 wins in the opening half.
—
The Summerside Western Capitals won their 3rd in a row in the MHL, 6-0 and improve to 19-4 in first place in the North. The Caps visit Grand Falls and Edmundston next weekend before the break.
—
The Island Storm look for a split in St. John's with the Edge in NBL basketball this afternoon. The Storm lost the opener on Friday, 112-104.
—
The Northern Moose at the Charlottetown Pride in Major Midget hockey today at 1.45 at the MacLauchlan Arena.
—
Moncton at the Central Attack in PEI Major Midget at 4.20 at the Cody Banks arena.
—
The Western Red Wings visit the Kensington Vipers at 7.00 in Jr. B. The Wings are six points up on second place Kensington.
—
The NHL with three afternoon games.
Las Vegas at the NY Rangers.
Arizona at Carolina.
Calgary at St. Louis.
Night games include Tampa Bay at Winnipeg and Edmonton at Vancouver.
—
The Toronto Raptors continue a west coast trip in Denver with the Nuggets in the NBA.
—
NFL football today has New England at Pittsburgh and Dallas at Indianapolis among the games.