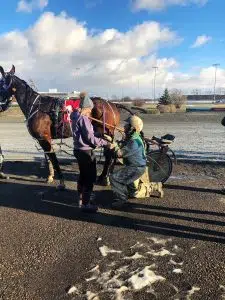 Something special happened after the 6th race at Red Shores in harness racing in Charlottetown on Saturday.
Driver Dale Spence won with Casimir Nunzio for owner and trainer MacKenzie MacInnis.
Both are from Tyne Valley.
At the winner's circle the Dale got down on one knee and asked MacKenzie to marry him.
She  said "Yes" in front of the camera which broadcasts the races world wide.
Certainly a nice story right before Christmas.