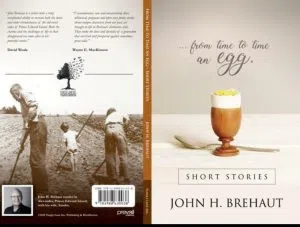 There's a new book of short stories out this Christmas that touches on Island life from years gone by which is called "From Time to Time…an Egg."
It's written by former radio news broadcaster John Brehaut who grew up in the Murray Harbour & Guernsey Cove area and touches on life as it was in rural PEI.
There are 39 short stories in the book including the title story about a farmer who was retiring and passed on the family farm to his son for the price of a hard boiled egg for lunch from time to time as payment.
Brehaut says there are Christmas stories plus stories about living through World War II and life in general on PEI.
The book is available at many book stories in the Island and by emailing the author at
jhbrehaut@email.com
The book costs $19.95 including shipping.