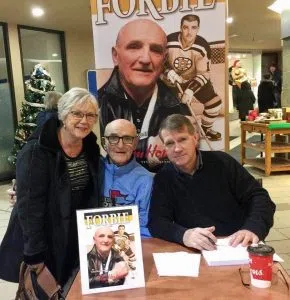 The new book "Forbie" on the story of NHL hockey legend Forbie Kennedy is an Island Christmas hit.
There was a long lineup at the Bookmark on Saturday morning where Forbie and author Gary MacDougall were on hand for a book signing.
MacDougall says "the love and respect Islanders have for Forbie continues to amaze me."
Forbie and Gary will be back today from 1-2.30 at Indigo for an other book signing.
And at Coles in Summerside next Saturday.
$8 from each book sold goes to the Summerside Boys and Girls Club.