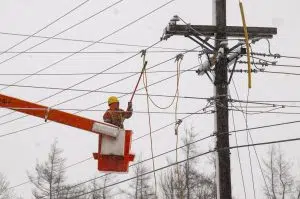 Just under  1,800  Maritime Electric customers without power as of Sunday at noon   following last week's winter storm.
The majority of the outages are in western PEI in Prince County and part of Queens in the Kensington, Kinkora and Borden-Carleton area.
At the peak of the storm there were 46,000 customers without power.
43 crews including some from Ontario and New Brunswick are helping in the restoration job.
Summerside
In Summerside, which has its own power utility, there were still about 25 residents without power yesterday.
Highway 2 near the St. Eleanor's Irving was closed while utilities cleared up 15 cracked poles from the storm.
New poles and lines were being erected.
It was hope power would be back on for all customers this morning.
Magdalen Islands
The winter storm really hit the Magdalen Islands hard last week.
Some calling it the worst storm in 12 years.
Power has been restored to all but 123 customers on the Magdalen Islands.
At one point over 23-hundred customers were without power until Hydro Quebec crews arrived on Friday.
The power outage lasted 48 hours.
23 teams of Hydro Quebec crews arrived along with trucks by boat to get the power back on.
A housing complex was destroyed by fire on Thursday but no one was injured.