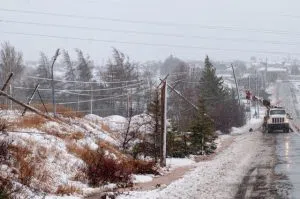 48-hundred Maritime Electric customers remained without power Saturday  morning.
The electric company says it may be until sometime on Sunday that all power is restored across the province.
Up to 40 crews have been working to restore power since it went out on Thursday into Friday.
At the peak of the storm there were 46-thousand customers without.
The big job to restore electricity has been hampered by so many downed utility poles and overhead wires.
If you need call Maritime Electric the number is 1-800-670-1012.