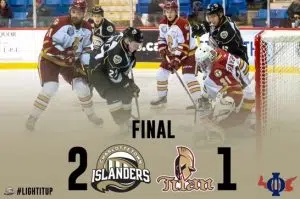 The Charlottetown Islanders trimmed the visiting Acadie-Bathurst Titan, 2-1 in the Q for their 6th win in 8 games.
Derek Gentile and Cole Edwards connected in the 3rd after Bathurst led 1-0 after 40 minutes.
The Islanders host Val-d'Or on Sunday at 3.00.
 —
Halifax dropped Shawinigan, 5-2.
Maritime leading Moncton over Sherbrooke, 6-3. Jeremy McKenna with his 20th goal.
Saint John outlast Val-d'Or, 4-3 in overtime.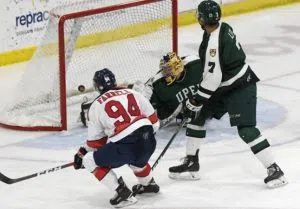 Acadia snapped a three game losing streak with a 5-2 win over UPEI in the AUS. Veterans Stephen Harper and Kyle Farrell among the goal scorers.  Brent Andrews and Filip Rydstrom for the Panthers.
That also ended UPEI's 3 game win streak.
First place UNB over Saint Mary's, 7-4.
Moncton stopped Dalhousie, 4-1.
—
The women Panthers got by Dalhousie, 2-1 for their 8th win in 14 games. Taylor Gillis scored the winner in the third.
PEI HOCKEY
The Kensington Wild dropped Saint John, 6-2 in Major Midget. That ties the Wild for first place with Moncton who they host tonight at 7.30.
—
13 wins and no losses for the Alberton Western Regals in PEI Midget AAA. The Regals got by Mid Isle, 2-1.
2nd place Kings County doubled Pownal, 6-3.
—
Sherwood Metros got by Cap-Pele, 3-2 in Junior B.
—
Central Attack over Prince County Warriors, 9-1 in Bantam AAA in O'Leary.
—
NHL
Nicklas Backstrom scored three times as Washington ran over New Jersey, 6-3 in the NHL.
Florida got by Buffalo, 3-2 in overtime. Alekzander Barkov with the winner.
Anaheim edged Carolina , 2-1 in overtime. Ryan Getzlaf the winner.
St. Louis 3 Colorado 2 in overtime.
Calgary upended Los Angeles, 4-1. Johnny Gaudreau with the game winner in the Flames three goal 3rd.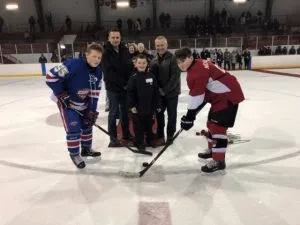 ON TODAY
The Pownal Markhan Memorial Minor Hockey Tournament continues today.
—
The Summerside Western Capitals host the Grand Falls Rapids at 7.00 in Maritime Jr. Hockey.
The Caps have won 8 of their last 10 and hold down first in the North Division with 16 wins in 20 games.
—-
UPEI continues a weekend road trip at Saint Mary's following their 5-2 loss at Acadia last night. Game time is 7.00.
—
The women Panthers host Saint Mary's at 7.00. UPEI edged Dalhousie, 2-1 last night.
—
The Island Storm is home tonight tot he London Lightning, last year's NBL basketball champs. Game time is 7.00 at the Eastlink Centre.
—
Holland College visiting Kings College today in women's and men's basketball.
—
Toronto at Cleveland in the NBA.
—
The NHL is busy today.
Among the games Toronto at Minnesota with a 6.00 deadline this evneing to sign holdout William Nylander.
The New York Rangers at Montreal.
Detroit at Boston.
Las Vegas at Edmonton.
This afternoon San Jose in Ottawa as Erik Karlsson makes his return against the Senators.
Washington's Tom Wilson is back in trouble.He blind sided the Devils' Brett Seney last night with a hit to the head and got a match. It was another dirty hit.
—
The battle for first in the NB-PEI Major Midget hockey league as Kensington hosts the Moncton Flyers at 7.30. Both teams with 31 points.
Charlottetown is at the Northern Moose.
—
The Central Attack at the Western Regals in Alberton at 7.30 as the Regals go for a 14th straight win.
—
In Junior B Kensington visits the Eastern Maniacs in Souris at 7.00.
—
The Eastern Express at the Central Attack at UPEI at 1.40 in Bantam AAA.
—
The Blue Jays have non-tendered infielder Yangervis Solarte making him a free agent.
—
Cincinnati has non-tendered centre fielder Billy Hamilton and he's a free agent. He's best known as a base stealer.
—
A big trade in baseball is being completed this weekend. The NY Mets to get second baseman Robinson Cano and relief ace Edwin Diaz from Seattle in a five player swap that includes Jay Bruce heading to the Mariners.
—
Washington has added catcher Yan Gomes from Cleveland for outfielder Daniel Johnson and prospects.
—
Harness racing at 12.30 at Red Shores in Charlottetown. Sock It Away with Marc Campbell is the 5-2 favourite in the 14th race on the 15-dash card.