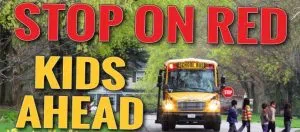 If you illegally pass a school bus as of Dec. 8th you are going to be paying a hefty fine and losing your license.
An update to the Provincial Highway Traffic Act will take effect in just over a week that will result in you losing 12 demerit points and losing your license for three months along with a $5,000 fine.
That's if you fail to stop for a school bus with the lights flashing red.
To get your license back, if you are caught, it will mean having to meet with a Highway Safety and paying a $100 reinstatement fee.
You will also have to take a defensive driving course within a six month period.