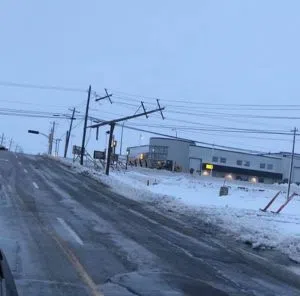 The roads are slushy and slippery this morning with a lot of wet snow that started to come down last evening.
Snow began falling around 9.00 on Wednesday night.
5 more centimetres expected before it turns over to rain. Showers or flurries are forecast for this evening.
The wind is the story with gusts up to 100 K that will blow throughout the day and gradually diminish into the evening.
Elevated water levels and pounding surf expected along the northern coast.
Queens District RCMP asking motorists to slow down on Route 2 and use caution in the Spring Valley area.  A lot of vehicles off the road in that part of the province.
Drive with care.
POWER OUT
46,000 Maritime Electric customers without power  this morning.
 The  Charlottetown are lost power just before 7.30.
Part of the city was back on the grid at about 10.41 so out lasted about 3 hours and 13 minutes.
Some other parts of the city and Summerside were without power.
There are outages across the province.
Crews are out working on the problem.
SCHOOLS CLOSED
No School today. The Public School Branch has ordered a system wide shutdown of the schools including French schools.
Holland College campuses across PEI closed for the day.    UPEI is closed until 12.30 with a further announcement at 11.30.
TRAVEL
Northumberland Ferries at Wood Islands & Caribou are cancelled for the day.
There are restrictions on high sided vehicles on the Confederation Bridge.
Road conditions are bad in Prince County with reports of downed power lines.
The Central Street and East Drive area of Summerside had to be closed overnight due to downed power lines.
Visibility is fair to poor in most areas this morning.
The Department of Transportation in Queens County says winds have been blowing up to 90 K with gusts up to 100 K.  The highest gust recorded was 107 K on the Northumberland Strait overnight.;
Plows have been out since 2.30 a.m.
In Kings County, it's much the same.
There are some power lines down. In one area tree has come down knocking out power.
Heavy wet snow is falling.
The plows are but you will have to slow down and use caution.