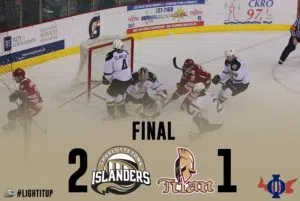 Charlottetown Islanders goalie Dakota Lund-Cornish was sharp in the nets, especially in the third period, as the Isles skated to a 2-1 win in Acadie-Bathurst over the Titan.
Lund-Cornish won his fourth straight game making 26 saves.
Brett Budgell and Nikita Alexandrov scored the goals.
The Islanders back home tonight as they host the Cape Breton Screaming Eagles.
You can hear all the action on Ocean 100 beginning at 6.45 this evening.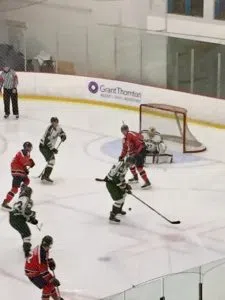 The UPEI Panthers scored four straight goals after trailing 1-0 early in a 4-1 effort over the Acadia Axemen.  UPEI is 7-5-1 and has won two in a row
But the win may have been costly.
First year defenseman Owen Headrick, who has be a standout on the blueline faces suspension after getting a major for checking to the head. He hit Axeman rookie Cole Reginato who had to be escorted off the ice with an apparent injury.
Cody Payne scored twice for the Panthers.
—
Saint Mary's got by UNB, 4-3 in overtime. The Huskies play the Panthers tonight at the MacLauchlan Arena.
St. F.X. over Dalhouse, 4-1.
—
The UPEI women's Panthers won their fourth in a row, 2-1 at Dalhousie.
PEI HOCKEY
Kensington Wild dumped the Charlottetown Pride, 8-1 in major midget. Duncan Picketts scored on a rare penalty shot.
—-
Kings County and Mid Isle tied, 2-2 in PEI Midget AAA.
Tignish bounced Summerside, 9-2 in Jr. C.
—
Prince County over Mid Isle, 6-2 in O'Leary in Island Bantam AAA.
—
NHL
Columbus stopped the Toronto Maple Leafs, 4-2 in the NHL.
Josh Anderson with two goals for the Blue Jackets.
Jeff Skinner scored the tying and winning goals as Buffalo got by Montreal, 3-2 in overtime.
Joakim Nordstrom with the overtime winner as Boston shaded Pittsburgh, 2-1 in OT.
Marc-Andre Fleury made 29 saves helping Las Vegas blank the hot Flames, 2-0.
Calvin Pickard with 31 saves in Philadelphia's 4-0 blanking of the NY Rangers.
NBA
Toronto romped to a 125-107 win at home to Washington. Kawhi Leonard with 27 points.
POSTPONED
Mount Allison at Holland College in women's and men's basketball was postponed to next Wednesday night due to weather and travel conditions.
THE MATCH
Phil Mickelson birdied the specially set up 93 yard par 3 on the 22nd hole to beat Tiger Woods in The Match in Las Vegas.
The pay per-view match-up was worth $9-million.
Many got to watch the event for free after a technical glitch. The price was $20 for the event on pay TV.
ON TODAY
Charlottetown Islanders Saturday Night Hockey on Ocean 100 beginning at 6.45 this evening as the Isles take on the Cape Breton Screaming Eagles at the Eastlink Centre.
Charlottetown coming off a tight 2-1 win in Bathurst last night.
The Islander have won 7 of 10 while Cape Breton has won three in a row.
The Isles just 3 points back of second place Halifax in the Maritimes.
Daniel Hardie tops the Islanders in scoring with 29 points. His 16 goals are tied for 4th in the Q.
Nikita Alexandrov and Derek Gentile both have 24 points.
—
The UPEI men's Panthers host Saint Mary's tonigjht. The Panthers out for a 3rd straight win after a 4-1 effort over Acadia, last night.
The Huskies have won four in a row including a 4-3 overtime victory at UNB last night.
—
In the NHL, Philadephia visits Toronto while Boston plays in Montreal tonight.
Washington at the NY Rangers this afternoon.
—
There's harness racing with the annual Driver's Challenge going in eight races at Red Shores today.
Post time is 12.30. Winter Blast with Jason Hughes driving is the favourite in the 14th.
—
The 54th Vanier Cup Canadian University football championship on at 2.00 in Quebec City.
The Western Mustangs play Laval Rouge et Or.
—
Major Midget hockey tonight has Moncton visiting the Kensington Wild at 7.30. The Wild just 3 points behind the first place Flyers after winning 8-1 over Charlottetown last night.
—
In Junior B, Sherwood visits the Eastern Maniacs in Souris at 7.00.
OCEAN 100 SCOREBOARD
(All times Eastern)
NHL
Philadelphia 4, N.Y. Rangers 0
Buffalo 3, Montreal 2, OT
Minnesota 4, Winnipeg 2
Anaheim 2, Edmonton 1, OT
Washington 3, Detroit 1
N.Y. Islanders 4, New Jersey 3, OT
Vegas 2, Calgary 0
Columbus 4, Toronto 2
Tampa Bay 4, Chicago 2
Carolina 4, Florida 1
Boston 2, Pittsburgh 1, OT
St. Louis 6, Nashville 2
Dallas 6, Ottawa 4
Colorado 5, Arizona 1
San Jose 4, Vancouver 0
—
AHL
Hartford 3, Bridgeport 2, SO
Milwaukee 3, Grand Rapids 2, SO
Syracuse 5, Binghamton 3
Toronto 6, Cleveland 5, OT
Lehigh Valley 6, Hershey 2
Springfield 4, WB/Scranton 3, OT
Utica 5, Rochester 4
Chicago at Rockford, 8 p.m.
Manitoba 4, Iowa 3, OT
San Antonio 4, Texas 1
Colorado 4, San Jose 3, OT
Bakersfield 4, Ontario 2
Stockton 6, San Diego 5
—
NBA
Minnesota 112, Brooklyn 102
L.A. Clippers 112, Memphis 107, OT
Detroit 116, Houston 111, OT
Boston 114, Atlanta 96
Cleveland 121, Philadelphia 112
New York 114, New Orleans 109
Toronto 125, Washington 107
Miami 103, Chicago 96
Oklahoma City 109, Charlotte 104
San Antonio 111, Indiana 100
Phoenix 116, Milwaukee 114
Denver 112, Orlando 87
Golden State 125, Portland 97
L.A. Lakers 90, Utah 83