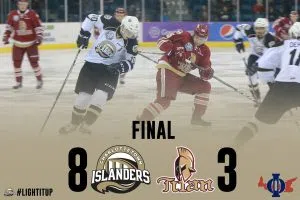 The Charlottetown Islanders ran over the Acadie-Bathurst Titan in their first game in a week, 8-3 in Bathurst, last night.
The Islanders led 5-0 after 40 minutes.
P.O. Joseph, Brett Budgell and Keith Getson with two goals each. Joseph added a pair of assists.
That's three straight wins for Charlottetown.
Summerside's Jeremy McKenna set up the tying and winning goals as Moncton won, 5-4 in Baie-Comeau.
Cape Breton over Chicoutimi, 7-1. Declan Smith with 2 goals and an assist.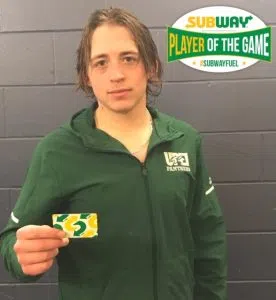 The UPEI men's Panthers also played their first game in a week and stopped the X-Men, 5-3 at St. F.X. in the AUS.
Cody Payne and Doug Blaisdell put the Panthers up 2-1 in the first and they didn't look back.
Game star Owen Headrick (see photo) played a strong two way game the Panthers. He had a power play goal and an assist.
 —
The UPEI women's Panthers got by Saint Mary's in Halifax, 2-1.
Delaney Boehm with both UPEI goals in the second period.
The Panthers now 6-4-1 and 5th in the AUS.
The Monctonian is going to the championship games in Major Midget and Bantam today and a pair of Island teams have reached the final.
The Kensington Wild advanced by skating by the Markham Majors, 3-1 in the Midget semi-final this morning and will go to the championship game.
The Central Attack from the Charlottetown area  faces The Rangers in the Bantam final.
.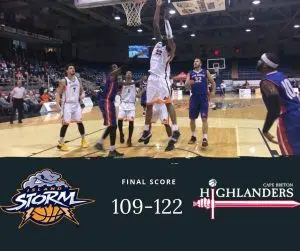 The Cape Breton Highlanders ruined the Island Storm's home opener in the NBL. Cape Breton won, 122-102.
The Storm led 57-53 at half-time but the Highlanders scored 68 in the second half led by Bruce Massey with 24 points.
Sampson Carter had 34 points for the Storm.
The Storms hosts Saint John at 2.00 this afternoon.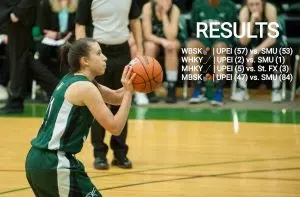 UPEI is 6-1 in the women's conference in the AUS with a 57-53 edging of Saint Mary's. The Huskies came back trailing 16-1 in the first quarter.
Jenna Mae Ellsworth had 12 points while Karla Yepez was a standout with 14 points and 18 rebounds.
Saint Mary's won the men's game, 84-47 over UPEI.
Holland College women humbled the Dal Rams, 112-20.
Holland College is 5-0 in the men's with a 119-43 runaway over Dal.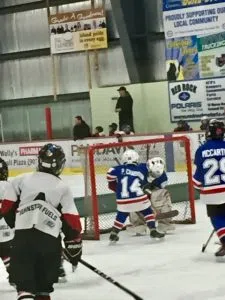 The Early Bird Minor Hockey Tournament in Charlottetown goes to playoff and championship games today in most divisions.
Mid Isle meeting Summerside this morning in Pee Wee AAA.
NHL
Matt Duchene and Mark Stone had two goals each as Ottawa dumped Pittsburgh, 6-4 in the NHL.
Jonathan Drouin scored with under 3 minutes to go in the third as Montreal edged Vancouver, 3-2.
Jake DeBrusk scored the game winner in the first as Boston shaded Arizona, 2-1.
Calgary doubled Edmonton, 4-2.
PEI HOCKEY
Moncton downed the Eastern Maniacs, 7-2 in Jr. B hockey in Souris.
 —
North River got by South Side, 3-2 in Jr. C in Crapaud.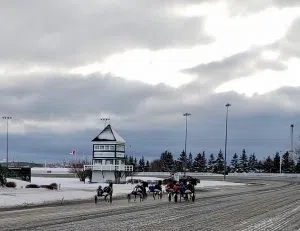 Harness racing at Red Shores on Saturday.
Jeb won with Jason Hughes driving in 2.00/3.
Dustlanemissmolly won the open fillies and mares in 2.01/1 for Myles Heffernan Sr.
Racing again today with post time at 12.30.
ON TODAY
 The Island Storm will try to make it a split weekend in their NBL basketball openers as they host the Saint John Riptide today at 2.00.
The Storm lost 122-102 to Cape Breton last night.
—
Lots of football today.
The CFL Conference finals are on this afternoon.
Hamilton at Ottawa in the East.
Winnipeg at Calgary in the West.
The winners go to the Grey Cup.
—
The NFL is busy.
Among the games Pittsburgh at Jacksonville, Dallas at Atlanta and Philadelphia at New Orleans.
—
The NHL with three games including Las Vegas at Edmonton, Minnesota at Chicago and Colorado visiting Anaheim.
—
Harness racing at Red Shores in Charlottetown with post time at 12.30.
12 dashes today. Sock It Away the favourite in the 11th with Marc Campbell driving.
—
Holland College hosts the Kings College Blue Devils in women's basketball at 2.00 and the men's game at 4.00.
—
Jr. B hockey today….Moncton at the Western Red Wings at 2.15 and the Eastern Maniacs at Kensington at 7.00.
OCEAN 100 SCOREBOARD
(All Times Eastern)
NHL
Tampa Bay 6, Philadelphia 5, OT
Detroit 3, New Jersey 2, OT
Buffalo 3, Minnesota 2
Ottawa 6, Pittsburgh 4
Montreal 3, Vancouver 2
Columbus 4, Carolina 1
N.Y. Rangers 4, Florida 2
Boston 2, Arizona 1
Nashville 5, Los Angeles 3
Calgary 4, Edmonton 2
San Jose 4, St. Louis 0
—
NBA
L.A. Clippers 127, Brooklyn 119
Indiana 97, Atlanta 89
New Orleans 125, Denver 115
Orlando 130, L.A. Lakers 117
Philadelphia 122, Charlotte 119, OT
Utah 98, Boston 86
Houston 132, Sacramento 112
Toronto 122, Chicago 83
Dallas 112, Golden State 109
Oklahoma City 110, Phoenix 100
—
AHL
Binghamton 2, Toronto 1
Bridgeport 2, Belleville 1
Cleveland 5, Hershey 2
Grand Rapids 3, Manitoba 2, OT
Hartford 6, Utica 3
Milwaukee 2, Ontario 1
Syracuse 6, Laval 4
Charlotte 6, WB/Scranton 5, OT
Providence 3, Rochester 2, OT
Springfield 3, Lehigh Valley 2
Iowa 4, Chicago 3, OT
San Antonio 2, Rockford 1
Bakersfield 5, Colorado 2
—
Sunday's Games
(All Times Eastern)
—
CFL
Hamilton at Ottawa, 1 p.m.
Winnipeg at Calgary, 4:30 p.m.
—
NHL
Dallas at N.Y. Islanders, 1 p.m.
New Jersey at Carolina, 5 p.m.
Minnesota at Chicago, 6 p.m.
Vegas at Edmonton, 8 p.m.
Colorado at Anaheim, 8 p.m.
—
NBA
Memphis at Minnesota, 3:30 p.m.
L.A. Lakers at Miami, 6 p.m.
New York at Orlando, 6 p.m.
Portland at Washington, 6 p.m.
Golden State at San Antonio, 7 p.m.
—
AHL
Rochester at Hartford, 3 p.m.
Binghamton at Toronto, 4 p.m.
Manitoba at Chicago, 4 p.m.
Colorado at San Jose, 8 p.m.
—
NFL
Houston at Washington, 1 p.m.
Pittsburgh at Jacksonville, 1 p.m.
Tampa Bay at N.Y. Giants, 1 p.m.
Dallas at Atlanta, 1 p.m.
Cincinnati at Baltimore, 1 p.m.
Carolina at Detroit, 1 p.m.
Tennessee at Indianapolis, 1 p.m.
Denver at L.A. Chargers, 4:05 p.m.
Oakland at Arizona, 4:05 p.m.
Philadelphia at New Orleans, 4:25 p.m.
Minnesota at Chicago, 8:20 p.m.