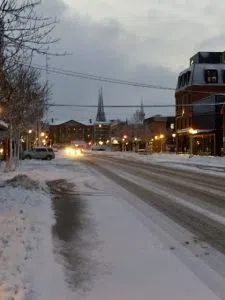 The Department of Transportation has all the plows out across the Island including contractors.
Some salt and sanding is underway and will continue throughout the day.
Some secondary roads are partially covered.
Most roads are slushy and slippery.
For road conditions in your area you can always call or go on the web at 5-1-1.
You are reminded to slow down and and use caution.
TRAVEL WILL BE BACK TO NORMAL
Early morning Northumberland Ferry sailings were cancelled.
The first boat will sail at 11.15 this morning at Wood Islands followed by the regular schedule.
Traffic is running smoothly in the Confederation Bridge.
POWER OUTAGES, SCHOOLS CLOSED, CANCELLATIONS
Power has been restored to most Maritime Electric customers after going out yesterday in the Borden-Carleton, Albany, Bedeque, Kinkora and Crapaud areas.
About 6,000 customers were affected.
There was also a outage in part of Kensington and area.
Schools across the Island closed three hours early yesterday.
Some flights in Charlottetown and Halifax
were cancelled.
The snow tapered to flurries over night.
Upward of 15 cm in most areas.
There were a lot of cancellations on Friday.
One thing that was in demand was snow tires and most garages and tire places were busy all day.
It appears winter has arrived.