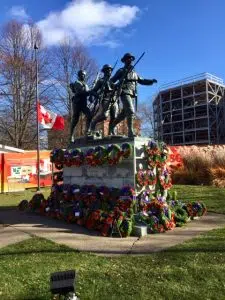 Sunday, marked the 100th anniversary of the end of the First World War on Remembrance Day.
A large crowd took in the Charlottetown service at the Cenotaph on Grafton St. near Province House. Many veterans, current military members and RCMP and police on hand.
Both young and old in attendance and many families with young children.
Late Sunday afternoon, the bells rang 100 times at 4.44 p.m at several Charlottetown churches to mark the century anniversary of the end of World War I.
Remembrance Day services held in many Island communities including Charlottetown, Summerside, Stratford and Montague.