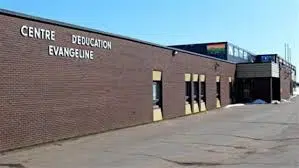 Community members and officials are calling for improvements to a school in Abram's Village
Ecole Evangeline was built between 1966 and 1970 and while it's the hub for the small community, it has a leaky roof and the temperature is difficult to regulate.
The construction and renovation committee for the school has put in a proposal to the province, asking for either a new building or to salvage some of the existing school and add on new facilities.
The school holds around 250 students and houses the offices of the French language school board.