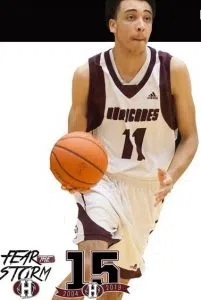 HURRICANES STAY UNBEATEN
The Holland College Hurricanes ran their win streak to four games in men's basketball with a 96-80 win at St. Thomas.
The Canes were dominant in the third quarter scoring 37 ppints.
Jace Colley led the way with 27 points and 8 rebounds.
Martin Campbell had 18 points and 6 rebounds.
—
The women Canes are 1-3, losing 84-53 to the Tommies.
Tyleighah Nelson had 13 points and 7 rebounds. Jayla Verney with 12 points and 5 rebounds in the loss.
RED WINGS BLAST VIPERS
The Western Red Wings won an odd one in Island Jr. B hockey.
The Wings were dominant in the 8-1 victory over the Kensington Vipers scoring eight straight goals in the first period.
There was no scoring in the last 40 minutes.
Isaac Knox led the way with 3 goals and an assist for the first place Red Wings.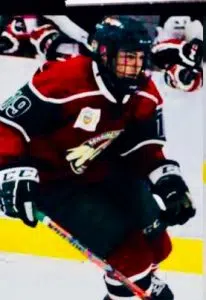 WILD WINS LATE
Bennett MacArthur scored with only 10 seconds left in regulation as the Kensington Wild got by the Charlottetown Pride, 2-1 in Major Midget.
The Wild moves to within three points of first place Moncton with a 12-2-1 record.
—
The Central Attack ran over Mid Isle, 15-1 in Bantam AAA. Cam Squires had 3 goals and 3 assists.
Isaac Vos scored three times and Bates Ling – David Ling's kid – had a hat trick.
NHL HILITES
Boston dropped Las Vegas, 4-1 in the NHL.
The Bruins improved to 10-5-2. Brad Marchand among the goal scorers.
Mark Schiefele had two goals and an assist in Winnipeg's 5-2 victory over New Jersey.
Nathan MacKinnon scored as Colorado stopped the Oilers, 4-1.
San Jose got by Calgary, 3-1.
UNB KEEPS ON WINNING
In AUS men's hockey the #1 UNB Reds blanked Dalhousie, 7-0. Chris Clapperton scored twice. The Reds are 10-0-2.
—
Acadia over Moncton, 5-1. Kyle Farrell had a goal and two assists.
NFL
In the NFL, Tennessee surprised the New England Patriots, 34-10.
Kansas City and the Los Angeles Rams both 9-1.
The Rams outlasted Seattle, 36-31.
The Chiefs dropped Arizona, 26-14.
New Orleans demolished Cincinnati, 51-14.
In the late game, Dallas Cowboys over Philadelphia, 27-20.
CFL PLAYOFFS
The CFL confernce finals are set.
Hamilton romped to a 48-8 win over the BC Lions in their semi-final game.
Winnipeg over Saskatchewan, 23-18.
The Blue Bombers will play first place Calgary in the West.
The Tiger Cats will play in Ottawa in the East final.
HARNESS RACING
Sock It Away won the featured 12th race at Red Shores in Charlottetown on a windy day in 1.57/1.
Marc Campbell was behind for his 112th win of the season.
ON TODAY
The fourth place Pownal Red Devils host the third place Mid Isle Matrix in Island Midget AAA tonight at 7.40.
—
The Vancouver Canucks continue a road trip in New York with the Rangers tonight in the NHL.
The Canucks are just four points back of first place Nashville in the West.
The Predators will visit Anaheim and have won five in a row.
The Chicago Blackhawks will try to snap a five game losing streak in Carolina.
Also tonight, Columbus at Dallas.
—
The high flying Toronto Raptors go for a 7th straight win at home to the New Orleans Pelicans.
Toronto leads the NBA at 12-1.
—
A pair of losing teams meet in the NFL Monday nighter.
The New York Giants take their 1-7 record into San Francisco. The 49ers are 2-7.
OCEAN 100 SCOREBOARD
CFL Playoffs
East Semifinal
Hamilton 48 B.C. 8
West Semifinal
Winnipeg 23 Saskatchewan 18
—
NFL
New Orleans 51 Cincinnati 14
Cleveland 28 Atlanta 16
Kansas City 26 Arizona 14
Tennessee 34 New England 10
Washington 16 Tampa Bay 3
Indianapolis 29 Jacksonville 26
Buffalo 41 N.Y. Jets 10
Chicago 34 Detroit 22
L.A. Chargers 20, Oakland 6
Green Bay 31, Miami 12
L.A. Rams 36, Seattle 31
Dallas 27, Philadelphia 20
—
NHL
Minnesota 3, St. Louis 2
Florida 5, Ottawa 1
Arizona 4, Washington 1
Winnipeg 5, New Jersey 2
Boston 4, Vegas 1
San Jose 3, Calgary 1
Colorado 4, Edmonton 1
—
AHL
Bridgeport 4, Charlotte 2
Providence 5, WB/Scranton 2
Milwaukee 7, Chicago 2
Texas 4, San Antonio 2
Syracuse 7, Hershey 2
Ontario 4, Stockton 1
—
NBA
Charlotte 113, Detroit 103
Houston 115, Indiana 103
Orlando 115, New York 89
Milwaukee 121, Denver 114
Portland 100, Boston 94
L.A. Lakers 107, Atlanta 106
—
Monday's Games
(All Times Eastern)
—
NHL
Chicago at Carolina, 7 p.m.
Vancouver at N.Y. Rangers, 7 p.m.
Columbus at Dallas, 8:30 p.m.
Nashville at Anaheim, 10 p.m.
—
NBA
Orlando at Washington, 7 p.m.
New Orleans at Toronto, 7:30 p.m.
Philadelphia at Miami, 7:30 p.m.
Brooklyn at Minnesota, 8 p.m.
Dallas at Chicago, 8 p.m.
Phoenix at Oklahoma City, 8 p.m.
Utah at Memphis, 8 p.m.
San Antonio at Sacramento, 10 p.m.
Golden State at L.A. Clippers, 10:30 p.m.
—
NFL
N.Y. Giants at San Francisco, 8:15 p.m.