Weather and travel conditions resulted in the St. F.X. at UPEI men's hockey game being postponed at the MacLauchlan Arena, last night. The contest will be made up in the second half of the season in January or February. The make-up date has not been announced.
The Saint John at Kensington Major Midget game was also postponed along with a pair of Jr. B games featuring Island teams in New Brunswick.
CAPS WIN IN OT
The Summerside Western Capitals were really the Caps army last as they saluted members of the Canadian Military on a special Remembrance Day ceremony night.
Summerside edged the Campbellton Tigers, 2-1 in overtime with ex-Islander Sullivan Sparkes providing the spark. He scored twice includng the OT winner.
NHL HILITES
Boston dropped the Toronto Maple Leafs, 5-1 as David Pastrnak scored three in a row….a natural hat-trick.
Tomas Tatar provided the winner against his old team in the second period as Montreal edged Las Vegas, 5-4.
Matt Duchene had a goal and two assists in Ottawa's 6-4 win in Tampa Bay.
Buffalo came back, down 3-1 late to tie Vancouver and then beat the Canucks in overtime.
WORLD UNDER 17
Russia edged Finland, 2-1 to win the World Under 17 Hockey Challenge in Saint John.
Sweden got by Canada Red, 4-3 in a shootout in the bronze medal game.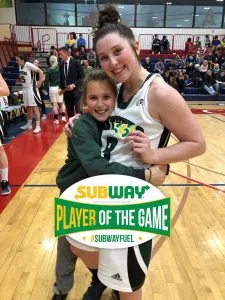 BASKETBALL HILITES
UPEI took its first loss in AUS men's basketball dropping a 92-81 at Acadia. UPEI outscored the Axemen, 30-17 in the third quarter.Dakelle Brooks led the way with 19 points.
The Panthers are 3-1.
The women Panthers also 3-1 as they stopped Acadia, 70-62. Reese Baxendale scored 15 of her 18 points in the 4th quarter.
 —
Holland College women secured their first win, 70-68 over Crandall. Lexi MacInnis with 21 points for the Hurricanes.
The men's Hurricanes are 3-0 as they ran over Crandall, 121-107.Jace Colley had 28 points and 12 rebounds. Jordan Honess with 26 points. Roosevelt Whyley had 24 points and 12 rebounds.
 —
In the NBA, the Toronto Raptors are 12-1 downing the NY Knicks, 128-112.
NATIONAL COLLEGE MENS SOCCER
Holland College ended the Canadian College men's soccer championship with a 3-2 win over St. Thomas in a placement game in Cornwall.
Humber College of Toronto won the national title with a 1-0 shutout over Indiens d'Ahuntsic of Montreal.
HARNESS RACING
Dustlanemissmolly won the fillies and mares pace in 2.00/2 on an off track in harness racing at Red Shores in Charlottetown.
Myles Heffernan Sr. in the bike.
Corey MacPherson had a driving triple.
ON TODAY
There's a 13-dash card of harness racing this afternoon at Red Shores in Charlottetown. Note post time will be 2.00.
The 12th race feature has Sock It Away as the 5-2 morning line favourite with driver Marc Campbell.
 —
A make up game in AUS men's hockey today. Dalhousie plays #1 UNB in Fredericton today after being postponed last night.
The postponed St,. F.X. at UPEI game will be made up in January or February.
 —
The two Island teams face-off today at 1.45 at the MacLaughlan Arena in Major Midget hockey. The Charlottetown Pride host the Kensington Wild.
 —
The Kensington Vipers visit the Western Red Wings in Evangeline at 2.15 in Jr. B.
 —
Seven NHL games today.
Among them Ottawa at Florida, Las Vegas in Boston, Calgary visits San Jose and Colorado in Edmonton.
 —
The NFL is busy.
Games will include New England at Tennessee and the LA Rams hosting Seattle.
The late game is Dallas at Philadelphia.
 —
The CFL conference semi-finals on today.
BC at Hamilton and Winnipeg at Saskatchewan.
 —
Holland College women's and men's basketball teams are at St. Thomas this afternoon.
 —
Baseball today…the Major League All-Star tour in Japan continues.
The MLB Stars won 7-3 over Japan.
That's the first win for MLB which lost 12-6 and 7-6 earlier this week.
OCEAN 100 SCOREBOARD
NHL
Philadelphia 4 Chicago 0
Buffalo 4 Vancouver 3 (SO)
Nashville 5 Dallas 4 (OT)
Boston 5 Toronto 1
Florida 4 N.Y. Islanders 2
Pittsburgh 4 Arizona 0
Montreal 5 Vegas 4
Detroit 4 Carolina 3 (SO)
Ottawa 6 Tampa Bay 4
N.Y. Rangers 5 Columbus 4 (SO)
Calgary 1 Los Angeles 0
—
AHL
W-B/Scranton 4 Hartford 1
Cleveland 4 Laval 2
Bridgeport 5 Providence 4 (OT)
Toronto 8 Belleville 2
Manitoba 6 Grand Rapids 2
Hershey 3 Springfield 2
Binghamton 5 Utica 1
Charlotte 7 Lehigh Valley 4
Rockford 4 Chicago 3
Texas 8 San Antonio 1
Bakersfield 4 Iowa 3
Tucson 1 San Jose 0
San Diego 3 Colorado 2
—
NBA
Toronto 128 New York 112
L.A. Clippers 128 Milwaukee 126 (OT)
New Orleans 119 Phoenix 99
Chicago 99 Cleveland 98
Memphis 112 Philadelphia 106 (OT)
Washington 116 Miami 110
Golden State 116 Brooklyn 100
San Antonio 96 Houston 89
Dallas 111 Oklahoma City 96
L.A. Lakers 101 Sacramento 86