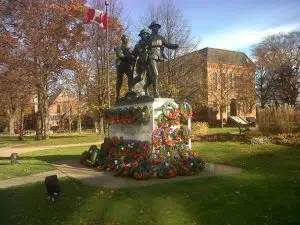 It was on this day 100 years ago, at the 11th hour of the 11th day of the 11th month that the First World War — the war to end all wars — came to an end.
Canadians across the country will take time to pause and reflect, as services are held at legions, cenotaphs and at Ottawa's National War Memorial.
Prime Minister Justin Trudeau will not be at the service in Ottawa, as he attends a ceremony marking the 100th anniversary of the armistice in Paris, France, alongside other world leaders.
Cenotaph services will be held at 11.00 this morning in many Island communities including Charlottetown, Stratford and Montague.
The service in Summerside will be held at Credit Union Place.
Other services will begin earlier in some communities or later this afternoon.
21 Gun Salute
There will be a 21-gun salute at 11 this morning at Peak's Quay to salute those who have fallen in Canada's defense.
Members of the Prince Edward Island Regiment will take part in the 21-gun salute ceremony.
Cenotaph ceremonies will also commence at 11 this morning in Charlottetown and other Island communities.
Church bells will ring out in Charlottetown on this Remembrance Day at 4.44 p.m. as the sun sets.
Church Bells Will Ring
The Royal Canadian Legion has contacted several churches in the city to the marking the 100th anniversary of the armistice that ended World War I on November 18 in 1918.
Allen MacLeod of Charlottetown will be among the bell ringers.
He says he heard the bells in 1945 as World War II ended.
He will ring the bells at the Kirk of St. James on Sunday.