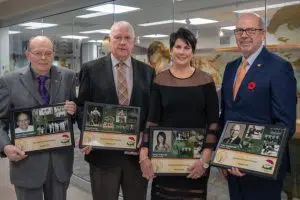 INTO THE HALL OF FAME!
The PEI Sports Hall of Fame has four new members today.
Brother and sister Peter MacDonald and Kathy O'Rourke were inducted for their outstanding curling careers.
Longtime hockey goalie, baseball catcher, and coach Gerard Smith enters the hall. He's also been involved with harness racing as race secretary at Red Shores.
Also going in is Lothar Zimmermann, the founder of fencing in PEI.
The induction ceremony was held at Credit Union Place, Friday night.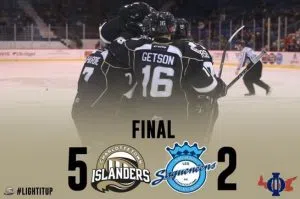 The Charlottetown Islanders made in six straight home wins the Q with a 5-2 effort over Chicoutimi.
Brett Budgell led the way with two goals. Daniel Hardie got his 15th.
Derek Gentile and Brendon Clavelle also scored,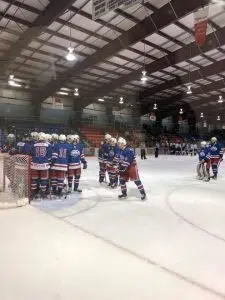 CAPS STAY HOT
Conor MacEachern had a goal and two assists in the Summerside Western Capitals 8-3 win in Miramichi in the MHL.
Kallum Muirhead and Kayden Peck scored twice each.  The Caps trailed 2-0 early but rallied for five goals in the second period.
Summerside is 15-3 and remains tied for first with Yarmouth in the overall standings.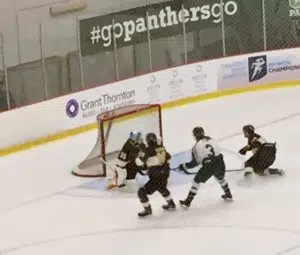 DAL SNAPS STREAK
The last place Dalhousie Tigers ended a nine game losing streak with a 4-3 shootout win over the UPEI Panthers in AUS men's hockey. Dal led 2-1 and 3-2 and won on the only goal in the shootout by Aiden Jamieson.
Filip Rydstrom and Kameron Keilly on power plays for the Panthers. Rydstrom's goal tied the game 2-2 in the second. Keilly tied it up 3-3 in the last give minues of the third. UPEI has lost 2 in a row. Keilly is first in the conference with 8 goals and 17 points and third in the nation in scoring.
—
Maria Clinton scored twice and set up the winner in overtime socred by Kristen MacIntyre as UPEI won 3-2 at St. F.X. in women's hockey.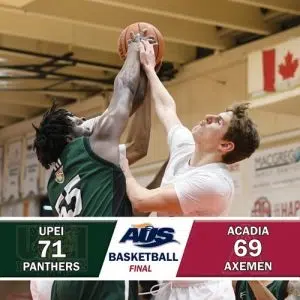 The UPEI men's Panthers off to a 3-0 start in AUS basketball. They got by Acadia, 71-69 on the road.
The women Panthers took their first loss, 73-70 to Acadia.
PEI HOCKEY
The Western Regals dropped Mid Isle, 6-2  in Midget AAA.   Kings County blanked the Central Attack, 6-0.
Sherwood got by Tignish, 5-4 in Jr. C.
Eastern Express doubled Prince County Warriors, 4-2 in Bantam AAA.
ON TODAY
Harness racing at Red Shores in Charlottetown with post time at 12.30 for the 13 dash card.
There is also racing at 2.00 on Sunday afternoon.
—
UPEI looks to get back on the winning track hosting St.F.X.
X is coming off an 8-3 loss at UNB.
—
The Summerside Western Capitals entertain the Campbellton Tigers at 7.00 in the MHL.
—
Saint John at Kensington Wild at 7.30 in New Brunswick-PEI Major Midget.
—
Cap-Pele at the Eastern Maniacs in Souris at 7.00 in Jr. B
The Western Red Wings at Kent, New Brunswick and Kensington Vipers visit Moncton.
—
Kings County at the Western Regals in Alberton at 7.30 in Midget AAA.
—
Summerside at South Side in Crapaud at 7.40 and Tignish at North River at 7.50 in Jr. C.
—
Holland College facing St. Thomas in a placement game at the Canadian College Men's soccer championship in Cornwall.
The Humber Hawks and Indiens d'Ahuntsic in the final at 4.30.
—
UPEI at Acadia in women's and men's basketball tonight.
Holland College is at Crandall U in Moncton in basketball today.
OCEAN 100 SCOREBOARD
NHL
Toronto 6 New Jersey 1
Columbus 2 Washington 1
Detroit 3 N.Y. Rangers 2 (OT)
St. Louis 4 San Jose 0
Winnipeg 5 Colorado 2
Minnesota 5 Anaheim 1
—
AHL
Laval 5 Cleveland 1
Utica 4 Hartford 3 (SO)
Belleville 7 Toronto 6
Providence 2 WB/Scranton 1 (OT)
Lehigh Valley 8 Springfield 2
Rochester 3 Syracuse 2 (OT)
Binghamton 4 Charlotte 3
Rockford 2 Milwaukee 1
Tucson 5 San Jose 0
San Diego 4 Colorado 3
Stockton 5 Ontario 1
—
NBA
Orlando 117 Washington 108
Philadelphia 133 Charlotte 132 (OT)
Detroit 124 Atlanta 109
Indiana 110 Miami 102
Brooklyn 112 Denver 110
Utah 123 Boston 115
Sacramento 121 Minnesota 110
—
Saturday's Games
(All Times Eastern)
NHL
Chicago at Philadelphia, 1 p.m.
Vancouver at Buffalo, 1 p.m.
Nashville at Dallas, 2 p.m.
Toronto at Boston, 7 p.m.
N.Y. Islanders at Florida, 7 p.m.
Arizona at Pittsburgh, 7 p.m.
Vegas at Montreal, 7 p.m.
Detroit at Carolina, 7 p.m.
Ottawa at Tampa Bay, 7 p.m.
N.Y. Rangers at Columbus, 7 p.m.
Calgary at Los Angeles, 10 p.m.
—
AHL
Grand Rapids at Manitoba, 7 p.m.
WB/Scranton at Hartford, 7 p.m.
Providence at Bridgeport, 7 p.m.
Springfield at Hershey, 7 p.m.
Laval at Cleveland, 7 p.m.
Toronto at Belleville, 7 p.m.
Charlotte at Lehigh Valley, 7:05 p.m.
Utica at Binghamton, 7:05 p.m.
Rockford at Chicago, 8 p.m.
San Antonio at Texas, 8 p.m.
Bakersfield at Iowa, 8 p.m.
San Jose at Tucson, 9:05 p.m.
Colorado at San Diego, 10 p.m.
—
NBA
New York at Toronto, 3 p.m.
Milwaukee at L.A. Clippers, 3:30 p.m.
Phoenix at New Orleans, 7 p.m.
Cleveland at Chicago, 8 p.m.
Philadelphia at Memphis, 8 p.m.
Washington at Miami, 8 p.m.
Brooklyn at Golden State, 8:30 p.m.
Houston at San Antonio, 8:30 p.m.
Oklahoma City at Dallas, 9 p.m.
L.A. Lakers at Sacramento, 10 p.m.