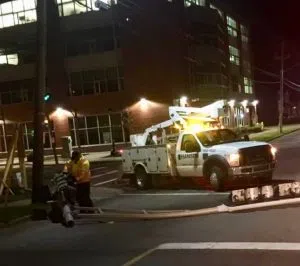 It was a very windy night across the Island with wind gusts up to 132 kilometres an hour recorded over the Confederation Bridge.
Martime Electric was reporting about 3,400 customers without power just before midnight.
East Prince was the hardest hit with scattered outages around the province.
The RCMP has been asking motorists to use caution on the roads with trees, branches and power lines down.
There are some downed trees in Charlottetown.
Overhead traffic lights were toppled at Prince and Kent.
A lot of political signage for the civic elections tomorrow also knocked down by the wind.
FERRIES CANCELLED, BRIDGE RESTRICTED
High sided vehicles are being restricted on the Confederation Bridge.
Northumberland ferry sailings at Wood Islands and Caribou are cancelled for the day.
HEAVY RAIN SATURDAY BEFORE THE WIND
Some heavy rain yesterday which brought 35 mm to Summerside and 32 mm in West Prince.
Charlottetown received 28 mm.
About 10 mm in Kings County.