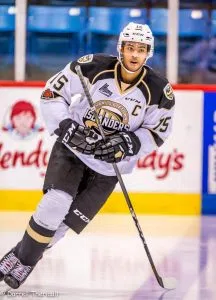 ISLANDERS EDGE TIGRES IN OT
P.O. Joseph provided the spark as the Charlottetown Islanders edged the Victoriaville Tigres, 4-3 in overtime in the Q.
The defenseman, drafted by Arizona, scored the tying goal in the third and the winner in OT. He also added two assists.
Joseph has 7 points this weekend…in on every Islanders goal so far.
The win is the 8th in 9 games for the Isles who are five points behind first place Moncton in the Maritimes Division.
—
Baie-Comeau's Ivan Chekhovich had a big night with four goals as the Drakkar romped to an 8-1 win over Saint John.
Halifax skated past Val d'Or, 6-2.
Acadie-Bathurst edged Cape Breton, 3-2.
CAPS TRIM ACES
T.J. Shea scored the game winner with 25 seconds remaining as the Summerside Western Capitals got by the St. Stephen County Aces, 2-1 in the MHL.
Conor MacEachern had a goal and assist.
Goalie Dan Thompson made 25 saves.
The Caps are 14-3 and nine points ahead of Edmundston in first place in the North Division.
PANTHERS GAME SUSPENDED
The UNB Reds were lights out in more than one way last night. They were up 7-1 on the UPEI Panthers with nine minutes left when the power went out inside the Aitken Centre. The game was suspended at that point and the AUS will have to decide if if should be completed.
Oliver Cooper and Chris Clapperton with two goals each.
—
Moncton went into the second overtime to edge the UPEI women's Panthers, 1-0.Katryne Villeneuve scored of Panthers goalie Camille Scherger who made 39 saves in the nets.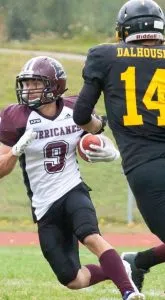 DAL TIGERS WIN AFL TITLE
The Dalhousie Tigers prevailed 27-3 over the Holland Hurricanes to win the Moosehead Cup championship in the Atlantic Football League in Halifax.
Dal finshed 8-0 on the season.
The PEI amateur football season ended yesterday with the Potato Bowl won by the Summerside Clippers, 30-5 over the Cornwall Timberwolves. The Clippers win for a second straight year.
The Souris Spartans won the Bantam Ed Hilton Bowl, 40-0 facing the Charlottetown Privateers.  The Spartans have won five of the last six years.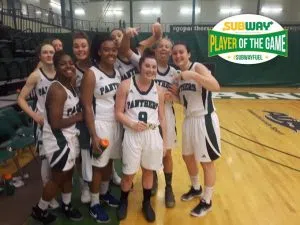 PANTHERS TAKE TWO IN HOOPS
The UPEI women basketball Panthers opened the new season with a 78-75 victory over visiting Memorial.
Reese Baxendale had 28 points, 6 rebounds and 4 assists.
—
The men Panthers stopped the Seahawks, 84-82 led by Amin Suleman with 19 points.
NHL
Frederik Andersen made 31 saves as Toronto blanked Pittsburgh, 5-0 in the NHL. Morgan Reilly with two goals. Jon Tavares had a goal and assist.
Steve Stamkos with two goals in Tampa Bay's 4-1 effort over Montreal.
Las Vegas blanked Carolina, 3-0. Marc Andre Fleury made 34 saves.
Buffalo routed Ottawa, 9-2. Jason Pominville scored twice.
Nashville shutout Boston, 1-0. Pekka Rinne had 26 saves and Roman Josi scored the only goal.
Calgary over Carolina, 5-3. Sean Monahan had two goals.
MINOR HOCKEY
Saint John edged the Charlottetown Pride, 2-1 in a shootout in Major Midget.
Kensington Wild handed the Moncton Flyers (12-1) their first loss, 7-2.
—
Pownal edged the Western Regals in Alberton, 4-3 in PEI Midget AAA
—
Prince County got by the Central Attack, 2-1 in Bantam AAA.
—
JAYS FIRE COACHES
The Toronto Blue Jays fired hitting coach Brook Jacoby on Saturday along with first base coach Tim Leiper.
This follows the hiring of Charlie Montoyo as the new manager for 2019.
ON TODAY
Harness racing at Red Shores in Charlottetown at 12.30 for Sunday afternoon. The 14-dash card includes Rollwithharry and driver Walter Cheverie the 5-2 favourite in the 14th race feature that has five entries.
Note that Saturday's 12-dash card that was postponed by weather conditions will go Monday night at 6.00 at the track.
—
The Charlottetown Islanders will complete a three game weekend road trip in Sherbrooke with the Phoenix today at 4.00. The Isles are 11-6-1 and third in the Maritimes in the Q but only five point behind first place Moncton.
The Wild Cats have a big game in Halifax with the second place Mooseheads who are only two points out of first.
—
The UPEI Panthers go for an opening weekend sweep of the Memorial Seahawks from St. John's in AUS basketball.
The women's game at 1.00. The men's game at 3.00.
—
Holland College hosting UNB Saint John in the women's game at 2.00 and the men's on the court at 4.00.
—
First place Moncton Flyers visit the Charlottetown Pride in Major Midget hockey at 1.45 at the MacLauchlan Arena.
—
Sherwood and the Western Red Wings face off at 2.15 in Evangeline in Jr. B.
Tonight at 7.00 first place Kensington Vipers host Moncton.
—
Kings County at Moncton in Midget AAA.
—
Tignish at South Side in Crapaud and Summerside visits North River in Jr. C.
—
The NHL has three games.
Buffalo at the NY Rangers.
Tampa Bay in Ottawa.
Columbus visits Anaheim.
—
Green Bay visits the New England Patriots in the NFL as the late night game.
Other games include the L.A. Rams (8-0) at New Orleans, Atlanta at Washington, the Jets at Miami and Pittsburgh at Baltimore.
OCEAN 100 SCOREBOARD
CFL
Edmonton 33 Winnipeg 24
Montreal 30 Hamilton 28
Calgary 26 B.C. 9
—
NHL
Calgary 5 Chicago 3
Toronto 5 Pittsburgh 0
Buffalo 9 Ottawa 2
Edmonton 4 Detroit 3
Tampa Bay 4 Montreal 1
N.Y. Islanders 3 New Jersey 0
Dallas 4 Washington 3 OT
Minnesota 5 St. Louis 1
Nashville 1 Boston 0
Vegas 3 Carolina 0
Los Angeles 4 Columbus 1
San Jose 4 Philadelphia 3 (OT)
—
AHL
Laval 2 Utica 1 (OT)
Charlotte 3 Providence 2
Chicago 4 Manitoba 1
Iowa 2 Rockford 1 (SO)
Bridgeport 5 Springfield 2
Rochester 4 Hershey 1
Syracuse 6 Belleville 1
Grand Rapids 2 Milwaukee 1
Lehigh Valley 3 Binghamton 2 (OT)
Hartford 3 WB/Scranton 2
Ontario 4 San Diego 2
San Antonio 4 Stockton 0
Colorado 5 Tucson 1
Bakersfield 4 Texas 3
—
NBA
Philadelphia 109 Detroit 99
Charlotte 126 Cleveland 94
Indiana 102 Boston 101
Atlanta 123 Miami 118
Houston 96 Chicago 88
San Antonio 109 New Orleans 95
Denver 103 Utah 88
L.A. Lakers 114 Portland 110
—
Sunday's Games
(All Times Eastern)
NFL
N.Y. Jets at Miami, 1 p.m.
Atlanta at Washington, 1 p.m.
Detroit at Minnesota, 1 p.m.
Kansas City at Cleveland, 1 p.m.
Tampa Bay at Carolina, 1 p.m.
Pittsburgh at Baltimore, 1 p.m.
Chicago at Buffalo, 1 p.m.
L.A. Chargers at Seattle, 4:05 p.m.
Houston at Denver, 4:05 p.m.
L.A. Rams at New Orleans, 4:25 p.m.
Green Bay at New England, 8:20 p.m.
—
NHL
Buffalo at N.Y. Rangers, 7 p.m.
Tampa Bay at Ottawa, 7 p.m.
Columbus at Anaheim, 9 p.m.
—
AHL
WB/Scranton at Bridgeport, 3 p.m.
Hartford at Hershey, 5 p.m.
Grand Rapids at Cleveland, 5 p.m.
Rockford at Iowa, 6 p.m.
San Antonio at Bakersfield, 8 p.m.
—
NBA
Sacramento at Milwaukee, 3:30 p.m.
New York at Washington, 6 p.m.
Philadelphia at Brooklyn, 6 p.m.
Orlando at San Antonio, 7 p.m.
Memphis at Phoenix, 8 p.m.
Minnesota at Portland, 9 p.m.
Toronto at L.A. Lakers, 9:30 p.m.