The PEI Sports Hall of Fame located at Credit Union Place in Summerside will grow by four new members this Friday, November 9, with the induction dinner at Credit Union Place.
2018 PEI Sports Hall of Fame Inductees
Peter MacDonald – Curling (Athlete)
Peter MacDonald is one of PEI's most successful curlers playing on five PEI Tankard winners that represented the province in the Brier national men's competing in the nationa men's in 1976, 1978, 1981, 1996 and 2001. He was also the fifth player selected by five other PEI champions.
MacDonald was born in Summerside and skipped on the 1973 PEI Junior Men's champions. Two years later he was a member of the Bill Merklinger PEI rink in the Canada Games in Lethbridge, Alberta.
He also won three provincial mixed curling championships
and represented the Island in the nationals in 1990, 1994 and 1999. His sister Kathy O'Rourke played on the '99 team.
He won the PEI Senior Men's title twice in 2010 and 2013.
MacDonald has also served as secretary-treasurer and auditor for the PEI Curling Association and as a director for the Summerside Curling Club, the Charlottetown Curling Club and the Summerside Silver Fox Curling and Yacht Club management board. In addition he was also a director of the Charlottetown 1999 and 2011 Scotties Tournament of Hearts committees and was a Sports Director for the Canada Winter Games committee in 1991, responsible for junior men's curling.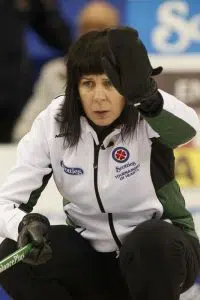 Kathy O'Rourke Curling (Athlete)
Kathy O'Rourke skipped one of PEI's greatest curling teams to the championship game in the 2010 Scotties Tournament of Hearts losing to Jennifer Jones of Manitoba by a close margin in Sault Ste. Marie, Ontario. The Island rink consisted of O'Rourke, third Erin Carmody, second Geri-Lynn Ramsay and lead Tricia Affleck. The fifth team was Shelly Bradley. It was only the second time and the first since the Marie Toole rink in 1974 that PEI finished as runner-up in the national women's.
O'Rourke from Summerside, began curling in junior and senior high school, moving to Charlottetown where her curling success began to build.
She won her first PEI women's championship in 1989 playing second stone on a rink skipped by Kathie Gallant. She was second on a rink skipped by Angela Roberts that won in 1991 and then as third for skip Susan McInnis in 1996. She also played on Rebecca Jean MaPhee's as second on the 1999 PEI rink that was the host team for the Scotties in Charlottetown.
She skipped her own rink to the 2002 PEI title and then the 2010 foursome that was the talk of the Island.
O'Rourke also played on the 1989 PEI rink that won the Canadian Mixed Curling Championship in Brandon, Manitoba skipped by Robert Campbell and also included her husband Mark O'Rourke and Angela Roberts. PEI defeated Jeff Stoughton of Manitoba scoring two in the 10th end.
In 1999, playing third on with her brother Peter MacDonald, husband Mark and Karen A. MacDonald, the Island team finished second in the national mixed.
O'Rourke also joined brother Rod MacDonald, husband Mark and sister-in-law Karen MacDonald on another Island mixed champion in 2013.
She also played on nine provincial runners-up between 1993 to 2015.
In 2010 she was named Curl PEI's Senior Female Athlete of the Year and a member of Sport PEI's Team of the Year in 2010.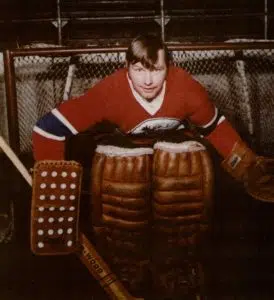 Gerard Smith Baseball, Hockey, Harness Racing (Athlete & Builder)
Gerard Smith has had a long career as a player and coach in many Island sports including hockey and baseball.
He was born in Charlottetown in 1942 and has spent many years in Summerside.
Smitty was a goalie for the Hardy Cup winning Saint John Mooseheads in 1972-73 and again with the Charlottetown Islanders in 1980-81. The Islanders were inducted as a team to the PEI Sports Hall of Fame in 2016.
He also played on the 1977 P.E.I. Islanders that won the silver medal at the Canadian Senior Men's Baseball Championship in Brandon, Manitoba that made it to the final game but lost to British Columbia. He was a catcher and also played first and third. The Islanders were named to the PEI Sports Hall of Fame as a team in 2016.
Smith tended nets for the Saint Dunstan's Saints University hockey team from 1962 to 1964 and later played for the Sandy's Royals Maritime Intermediate "A" champs in 1964-65 and the Royals that won the 1969-70 Maritime Senior "B" title.
He played on the Morell Chevies baseball team that won Maritime Intermediate "B" championships in 1968 and 1969 and Maritime "A" championships in 1970 and 1971. He was also with the Tignish Aces that won the Maritime Intermediate "B" crown in 1980.
He coached the 1970-71 Summerside Crystals Island Jr. B hockey champions and coached both the Peaks Little Leaguers and Mosquitos to Maritime minor baseball championships in 1972.
As a race official, Smith has served many years as the Race Secretary for Summerside Raceway where he began in 1972 and took over as Race Secretary at the Charlottetown Driving Park in 2005. He also has similar duties for harness racing tracks in Inverness, Nova Scotia, Exhibition Park in Saint John along with two Raceways in Fredericton and Woodstock, New Brunswick. He was named the Atlantic Provinces Harness Racing Commission Official of the Year in 2016.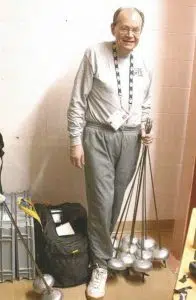 Lothar Zimmermann Fencing (Builder)
Lothar Zimmerman has committed 50 years to the sport of fencing on Prince Edward Island. He was born in Germany but raised by his parents in Hamilton, Ontario taking up fencing while attending McMaster University and later the University of Toronto. He came to Prince Edward Island after being hired by Prince of Wales College in Charlottetown as a new faculty member in the mid 1960's. Prince of Wales had no one competing in fencing at the time. Zimmermann founded the first fencing club on PEI during the 1967-68 school year. When the University of Prince Edward was formed a year later so was the first UPEI Fencing Club. Membership fluctuated over the first five years which was not easy with members required to travel outside of PEI for regional tournaments. However the fencing club grew and attracted members outside of the university including younger fencers. About this time the Prince Edward Island Fencing Association was formed and brought into the fold by the Canadian Fencing Federation.
The growth of fencing on PEI has led to a Canada Games bronze medal won by Matthew Coe of Montague in epee in 2003 in Northern New Brunswick plus an under-15 national champion in 2008 and an Olympian in the sport of Modern Pentathlon in 2004 and 2008 where Islander Kara Grant competed in fencing as part of the standard.
Many club members under the direction of Zimmermann have gone on to national competitions and World Cup events.