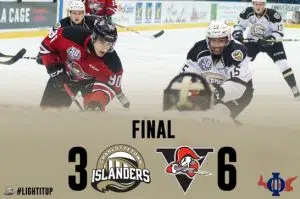 The Charlottetown Islanders seven game win streak came to a halt on Friday night .
The Islanders lost 6-3 in Drummonville to Volitiguers who have 8 wins in 10 games.
P.O. Joseph scored twice for the Isles. Daniel Hardie got his 11th.
The Islanders continue their three game Quebec road trip in Victoriaville tonight. You can hear the action on Islanders Saturday Night Hockey on Ocean 100 beginning at 7.45.
—
Jeremy McKenna from Summerside scored the winner as Moncton edged Val d'Or, 4-3 in a shoothout.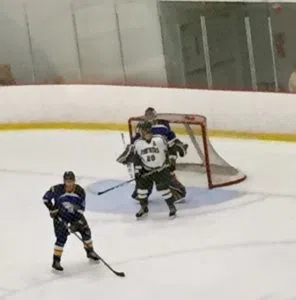 PANTHERS STAY HOT
The UPEI men's hockey Panthers continue to roll.
The Panthers trimmed the Moncton Aigles Bleu, 3-2 which gives them four wins in five games. Brent Andrews and Owen Headrick scored in the second period after Moncton took a 2-1 lead. UPEI at #1 ranked UNB tonight. The Reds are 7-0-2.
The Panthers Kameron Keilly in the U Sport Canadian male athlete of the month for October after leading the AUS in scoring.
WOMEN'S PANTHERS LOSE
The UPEI women's Panthers lost 4-2 at St. Thomas. Rachel Colle had both UPEI goals.
Florida doubled Winnipeg, 4-2 in the NHL.
MINOR HOCKEY
The Kensington Wild got their 10th win in 14 games, 4-3 over Fredericton in Major Midget.
Mid Isle downed the Central Attack, 5-1 in PEI Midget AAA.
Tignish dumped Shewood, 8-2 in Jr. C.
BASEBALL NEWS
Former Toronto Blue Jays Chris Woodward is the new manager of the Texas Rangers.
Clayton Kershaw will be back with the Los Angeles Dodgers. He's signed a three year deal averting free agency.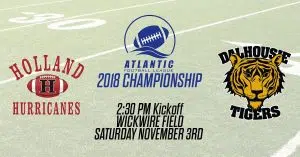 The Holland Hurricanes go for their first Moosehead Cup Atlantic Football League championship since 2015 as they meet the Dalhousie Tigers at Wickwire Field in Halifax at 2.30. The Tigers are 7-0 and have two wins over the Canes. Holland College is 3-4.
—
The 2018 Potato Bowl is set for Summerside at 2.30 as the defending champion Summrside Clippers host the Cornwall Timberwolves.
The Ed Hilton Bowl begins at 12.15. Unbeaten Summerside hosts the Charlottetown Privateers.
—
The Charlottetown Islanders visit the Victoriaville Tigres at 8.00 tonight (Atlantic) as their weekend road trip continues. The Islanders coming off a 6-3 loss in Drummondville. Victoriaville is 8-7-1 and has won two in a row.
You can hear the game at 7.45 on Ocean 100.
—
The Summerside Western Capitals host the St. Stephen County Aces at 7.00 at the Eastlink Arena. The Caps have won four in a row and are tied for first overall with Yarmouth in the MHL.
—
The UPEI Panthers will try to become the first team to beat the #1 ranked UNB Reds in Fredericton tonight in the AUS. UPEI has been hot…winning 4 of 5 and coming back to edge Moncton, 3-2 last night.
—
UPEI at Moncton in women's play. The Panthers lost 4-2 at St. Thomas last night.
—
UPEI is the favourite to finish in first place in AUS women's basketball this season according to a coaches poll.
The Panthers begin their quest hosting Memorial at 6.00 in the season opener. The men's game at 8.00.
—
Major Midget hockey has Saint John at the Charlottetown Pride at 7.30. Kensington visits the Moncton Flyers who are 12-0.
—
In Jr. B the Western Regals at the Eastern Maniacs in Souris at 7.00.
—
Sherwood at Tignish and South Side at Summerside in Jr. C.
—
Kings County at Moncton and Pownal at the Western Regals in Alberton at 7.30 in PEI Midget AAA.
—
The NHL includes Ottawa at Buffalo this afternoon.
Tampa Bay at Montreal tonight along with Toronto at Pittsburgh.
—
Harness racing at Red Shores this afternoon is postponed until Monday night at 7.00 due to weather conditions.
There is a 12.30 card of racing on Sunday afternoon in Charlottetown.
OCEAN 100 SPORTS
(All times Eastern)
CFL
Ottawa 24, Toronto 9
NHL
Florida 4, Winnipeg 2
Vancouver 7, Colorado 6, OT
Arizona 4, Carolina 3, OT
—
AHL
Syracuse 5, Belleville 4
Iowa 3, Grand Rapids 2, SO
Cleveland 7, Toronto 6, SO
Charlotte 4, Providence 3
Hershey 4, Rochester 2
Springfield 3, Bridgeport 2
Binghamton 4, Lehigh Valley 3, OT
WB/Scranton 5, Hartford 3
Utica 3, Laval 1
Manitoba 5, Chicago 4
Rockford 3, Milwaukee 2, OT
Colorado 3, Tucson 2
San Jose 3, San Antonio 1
—
NBA
L.A. Clippers 120, Orlando 95
Houston 119, Brooklyn 111
Indiana 107, Chicago 105
Oklahoma City 134, Washington 111
New York 118, Dallas 106
Memphis 110, Utah 100
Toronto 107, Phoenix 98
Golden State 116, Minnesota 99
—
Saturday's Games
(All times Eastern)
—
CFL
Winnipeg at Edmonton, 4 p.m.
Montreal at Hamilton, 7 p.m.
Calgary at B.C., 10 p.m.
—
NHL
Ottawa at Buffalo, 2 p.m.
Edmonton at Detroit, 7 p.m.
Tampa Bay at Montreal, 7 p.m.
New Jersey at N.Y. Islanders, 7 p.m.
Toronto at Pittsburgh, 7 p.m.
Dallas at Washington, 7 p.m.
Minnesota at St. Louis, 8 p.m.
Boston at Nashville, 8 p.m.
Chicago at Calgary, 10 p.m.
Carolina at Vegas, 10 p.m.
Columbus at Los Angeles, 10:30 p.m.
Philadelphia at San Jose, 10:30 p.m.
—
AHL
Utica at Laval, 3 p.m.
Providence at Charlotte, 6 p.m.
Chicago at Manitoba, 7 p.m.
Iowa at Rockford, 7 p.m.
Springfield at Bridgeport, 7 p.m.
Rochester at Hershey, 7 p.m.
Belleville at Syracuse, 7 p.m.
Milwaukee at Grand Rapids, 7 p.m.
Binghamton at Lehigh Valley, 7:05 p.m.
Hartford at WB/Scranton, 7:05 p.m.
San Diego at Ontario, 9 p.m.
San Antonio at Stockton, 9 p.m.
Tucson at Colorado, 9:05 p.m.
Texas at Bakersfield, 10 p.m.
—
NBA
Detroit at Philadelphia, 1 p.m.
Boston at Indiana, 7 p.m.
Cleveland at Charlotte, 7 p.m.
Miami at Atlanta, 7:30 p.m.
Houston at Chicago, 8 p.m.
New Orleans at San Antonio, 8:30 p.m.
Utah at Denver, 9 p.m.
L.A. Lakers at Portland, 10 p.m.