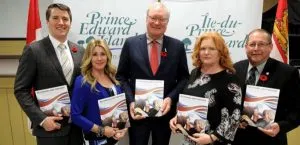 Some new investments for shelter, food and help for people who are looking for employment has been announced by the provincial government.
Social assistance food rates are increasing 10 per cent and shelter rates are going up 6 per cent which will benefit 5,000 Islanders a year.
A new Child Social Inclusion Allowance will provide funding for families on social assistance so their children will have more opportunity to participate in activities.
Also a new secure income program is being put in place for Islanders who are not able to join the workforce.
A 2-1-1 phone service is being put in place to provide a simple access point for Islanders seeking assistance.
New job readiness plans will reduced barriers for Islanders trying to enter the workforce.
Education Minister Jordan Brown says young people will benefit.
Premier Wade MacLauchlan says the investments will give more Islanders a chance to participate to their fullest.