RED SOX RALLY
No stopping the Boston Red Sox high octane offense…even if it's in the late innnings.
Boston came back down 4-0 to stun the Los Angeles Dodgers, 9-6 in Game 4 of the World Series.
Mitch Moreland with a pinch hit 3 run homer in the 7th.
Rafael Devers drove in the winning run in the 9th.
Steve Pearce had tied it with a homer in the 8th and capped it with a bases clearing double in the 9th.
The Red Sox a win away from the World Series title.
David Price and Clayton Kershaw will pitch in Game 5 tonight in LA.
PANTHERS ROUT BABY AXEMEN
The UPEI Panthers beat up on the rookie-filled Acadia Axemen in an 8-3 victory.
Filip Rydstrom had his biggest night in the AUS with four goals and an assist.
The game ended with some rough stuff and five Panthers ejected along with four Axemen.
—
The women's Panthers were shutout, 3-0 by Saint Mary's.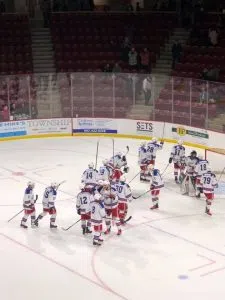 CAPS WIN AGAIN
The Summerside Western Capitals continue to roll along in the Maritime Junior Hockey League with a 5-2 win over the expansion Grand Falls Rapids. Kallum Muirhead scored three times. Sam Meisnenheimer had three assists.  The Caps have won 3 in a row and 10 of 11.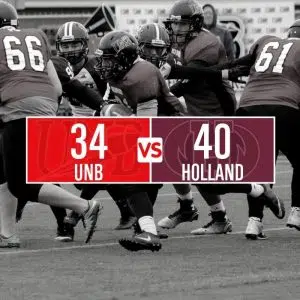 FOOTBALL CANES TO FINAL
The Holland Hurricanes are back in the Atlantic Football League championship game with a 40-34 victory over the UNB Red Bombers in Fredericton.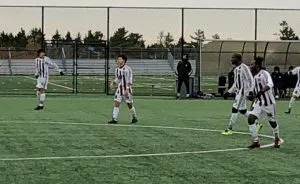 CANES ADVANCE TO MEN'S SOCCER FINAL
Holland College men advance to the regional final in soccer with a 6-0 victory over Mount St. Vincent.  Shunya Kobayshi had three goals and assisted on three.
Tegan Misener scored twice.
The Canes play St. Thomas today.
—
The women's Canes lost their semi-final, 3-1 to the Mystics.
—
BASKETBALL
Holland College bounced St. Thomas, 121-95 in their season opener in men's basketball. Jace Colley paced the Hurricanes with 34 points and 13 rebounds.
The Tommies held off the Hurricanes, 64-60 in the women's opener. Lexi MacInnis had 27 points for Holland College in the loss.
NHL
The Toronto Maple Leafs struck three times in the 3rd period for a 3-2 edging of Winnipeg but lost Auston Matthews with a shoulder injury after he received a clean hit from Jacob Trouba in the 2nd and did not return.
—
Montreal has 6 wins in 10 games surprising the Boston Bruins, 3-0. Carey Price made 23 saves.
—
Pittsburgh blanked Vancouver, 5-0. Sydney Crosby scored twice.
PEI HOCKEY
The Kensington Wild bombed the Northern Moose, 11-4 in Major Midget.
—
Summerside edged South Side, 5-4 and Tignish over North River, 6-4 in PEI Jr. C.
—
The Central Stormed got by Northwestern, New Brunswick, 3-2 in Bantam AAA.
Fredericton over Mid Isle, 10-3.
Eastern edged Northern, New Brunswick, 4-3.
Q
Cape Breton dropped Halifax, 5-2 to improve to 8-7.
The Mooseheads are 12-4.
HARNESS RACING
West River Cindy set a track record in Charlottetown for 3 year old trotting fillies in 2.00/1 in the Island Breeders finals with Clare MacDonald behind at Red Shores.
Magical Mistress won the 2 year old fillies in 1.57 for Adam Merner.
Gilles Barrieau drove three winners.
Bettim Jackie in the 3 year old fillies, Mile High Willie in the 2 year old trot, and Red Dirt Bomber in the 2 year old colts.
Sock It Away won the 3 year old colts in a.55/1 for Marc Campbell.
Winter Blast with Jason Hughes driving won the featured 13th in 1.56/2.
ON TODAY
Today's card of harness racing at Red Shores in Summmerside is postponed until Monday night at 6.00 due to weather conditions.
There will be a special race in honour of longtime Race Secretary Gerard Smith who is entering the PEI Sports Hall of Fame on November 9th.
—
Game 5 of the World Series tonight at Dodger Stadium with the Boston Red Sox a win away from their fourth World Championship since 2004.
David Price continues his playoff redemption tour on the mound for the Sox. Clayton Kershaw for the Dodgers, who are down 3-1.
—
The Charlottetown Islanders will look for a weekend sweep of the Sea Dogs in Saint John this afternoon.
The Islanders won their 6th straight, 4-3 over Saint John on Friday night at home.
—
UPEI at UNB in women's hockey.
—
The NHL has six games including Ottawa at Las Vegas and Edmonton in Chicago.
—
Holland College men's go for another ACAA soccer title in the final game facing St. Thomas in Halifax.
—
UPEI plays Laurentian in men's pre-season basketball at Dalhousie in Halifax.
—
The NFL with another busy Sunday.
Among the games Cleveland at Pittsburgh and Green Bay at the Los Angele Rams. The Rams are 7-0.
—
PEI Midget AAA hockey today. Moncton at Ponwal at 2.40.
—
Major Midget today.
The Northern Moose at the Charlottetown Pride at 1.45.
Kesington visits Fredericton.
OCEAN 100 SCOREBOARD
(All Times Eastern)
MLB
World Series
Boston 9, Los Angeles 6
(Red Sox lead series 3-1)
—
CFL
Ottawa 30, Hamilton 13
Saskatchewan 35, B.C. 16
—
NHL
New Jersey 3, Florida 2
N.Y. Islanders 6, Philadelphia 1
Edmonton 5, Nashville 3
Washington 4, Calgary 3, SO
Columbus 5, Buffalo 4, OT
Toronto 3, Winnipeg 2
Montreal 3, Boston 0
Minnesota 3, Colorado 2
St. Louis 7, Chicago 3
Arizona 7, Tampa Bay 1
Pittsburgh 5, Vancouver 0
—
AHL
Milwaukee 4, Manitoba 1
Cleveland 2, Rockford 1
Hershey 4, WB/Scranton 3, SO
Charlotte 6, Syracuse 3
Grand Rapids 3, Belleville 1
Laval at Rochester, 7:05 p.m.
Springfield 4, Providence 2
Lehigh Valley 5, Binghamton 2
Bridgeport 5, Hartford 4
San Jose 6, Texas 1
Iowa 6, Colorado 1
Bakersfield 8, Stockton 2
Tucson 4, San Diego 3
—
NBA
Boston 109, Detroit 89
Utah 132, New Orleans 111
Chicago 97, Atlanta 85
Indiana 119, Cleveland 107
Philadelphia 105, Charlotte 103
Memphis 117, Phoenix 96
Miami 120, Portland 111
Milwaukee 113, Orlando 91
San Antonio 110, L.A. Lakers 106
—
Sunday's Games
(All Times Eastern)
MLB
World Series
Boston (Price 16-7) at Los Angeles (Kershaw 9-5), 8:15 p.m.
(Red Sox lead series 3-1)
—
CFL
Toronto at Montreal, 1 p.m.
—
NHL
N.Y. Rangers at Los Angeles, 3:30 p.m.
N.Y. Islanders at Carolina, 5 p.m.
Dallas at Detroit, 5 p.m.
Edmonton at Chicago, 6 p.m.
Ottawa at Vegas, 8 p.m.
San Jose at Anaheim, 8 p.m.
—
AHL
Bridgeport at Providence, 3:05 p.m.
Hartford at Springfield, 3:05 p.m.
Chicago at San Antonio, 4 p.m.
Manitoba at Rockford, 5 p.m.
Lehigh Valley at Hershey, 5 p.m.
—
NBA
Golden State at Brooklyn, 5 p.m.
Phoenix at Oklahoma City, 7 p.m.
Utah at Dallas, 7 p.m.
Washington at L.A. Clippers, 9:30 p.m.
—
MLS
Atlanta at Toronto FC, 4:30 p.m.
D.C. United at Chicago, 4:30 p.m.
FC Dallas at Colorado, 4:30 p.m.
Houston at LA Galaxy, 4:30 p.m.
Los Angeles FC at Sporting Kansas City, 4:30 p.m.
Minnesota United at Columbus, 4:30 p.m.
Montreal at New England, 4:30 p.m.
Orlando City at New York, 4:30 p.m.
Philadelphia at New York City FC, 4:30 p.m.
Portland at Vancouver, 4:30 p.m.
San Jose at Seattle, 4:30 p.m.
—
NFL
Philadelphia vs Jacksonville at London, UK, 9:30 a.m.
Cleveland at Pittsburgh, 1 p.m.
Washington at N.Y. Giants, 1 p.m.
Seattle at Detroit, 1 p.m.
Baltimore at Carolina, 1 p.m.
Denver at Kansas City, 1 p.m.
Tampa Bay at Cincinnati, 1 p.m.
N.Y. Jets at Chicago, 1 p.m.
Indianapolis at Oakland, 4:05 p.m.
Green Bay at L.A. Rams, 4:25 p.m.
San Francisco at Arizona, 4:25 p.m.
New Orleans at Minnesota, 8:20 p.m.