ISLANDERS MAKE IT SIX IN A ROW
The Charlottetown Islanders made it six straight wins as they trimmed the visiting Saint John Sea Dogs, 4-3.
Keith Getson scored the game winner at 9.55 of third after Saint John tied it up. Nikita Alexandrov, Kevin Gursoy and Daniel Hardie also scored for the hot Islanders, now 9-5-1 and third in the Maritimes Division in the Q,
The Islanders visit the Sea Dogs on Sunday afternoon.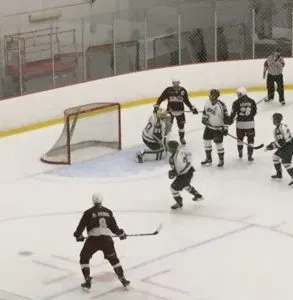 HUSKIES STOP PANTHERS
The scoring didn't begin until the second period but the Saint Mary's Huskies used a pair power play goals and two short handed markers to drop the UPEI Panthers, 6-1 in the AUS. Hunter Garlent had a goal and assist. Kameron Keilly had the lone Panther goal a power play with the score 5-0.
UPEI hosts Acadia at 7.00 tonight.
The Axemen lost 7-0 at UNB as the first place Reds improved to 7-0.
St. F.X. came back to get by Moncton, 5-4 in overtime.
DODGERS OUTLAST RED SOX IN MARATHON
The Los Angeles Dodgers went 18 innings to edge the Boston Red Sox, 3-2 in Game 3 of the World Series at Dodger Stadium.
Max Muncy ended it with a walk-off homer of Sox pitcher Nathan Eovaldi. A total of 45 players were in the game which was the longest in World Series history and lasted 7 hours and 20 minutes.
The Red Sox still lead 2-1 with Game 4 tonight.
NHL
Tampa Bay edged Las Vegas, 3-2 in the NHL. J. T. Miller scored the winner on a power play in the 2nd period.
Winnipeg over Detroit, 2-1. Dustin Byfuglien scored the game winner at 13.15 in the third.
Carolina went to a shootout to beat San Jose, 4-3.
Colorado over Ottawa, 6-3. Nathan MacKinnon had a goal and two assists.
RAPTORS OFF TO BEST START
The Toronto Raptors are 6-0 to start the NBA season. They downed the Dallas Mavericks, 116-107. Kawhi Leonard had 21 points and 9 rebounds.
PEI HOCKEY
Kings County over Pownal, 6-2 in PEI Midget AAA.Tignish rattled Summerside, 12-2 in Jr. C
PANTHERS SPLIT IN SOCCER
Lucas Ross scored twice and Noah Bitar added a single as the Panthers blanked Saint Mary's, 3-0 in AUS men's soccer.
The women's Panthers also won 4-1 over SMU.
BASEBALL CANES LOSE IN NATIONALS
Holland College will play in a placement game at the Canadian College baseball championship in Toronto facing Ahuntsic of Montreal after losing 13-0 to Fanshaw of London, Ontario in the quarter-final.
The Hurricanes are 0-3 in the tournament.
ON TODAY
UPEI hosts the Acadia Axemen at 7.00 tonight in AUS men's hockey coming off that 6-1 loss to Saint Mary's. The Panthers are 3-4. Acadia is 2-5.
—
UPEI hosts Saint Mary's in women's hockey at 2.00. Both teams are 3-1 and tied for third.
—
The hot Summerside Western Capitals are home to the expansion Grand Falls Rapids in Maritime Jr. hockey.
The Caps have won 9 of 10 and two in a row.
—
Holland College is in Fredericton to play the UNB Red Bombers in the Atlantic Football League semi-finals.
The Hurricanes have lost for in a row including both games to UNB.
—
The ACAA soccer semi-finals today in Halifax.
Holland College playing both games in women's and men's facing Mount St Vincent.
—
The basketball season begins with Holland College hosting St. Thomas at 4.00 in the women's and 6.00 in the men's.
—
In Major Midget hockey Kensington at the Northern Moose.
—
Kensington Vipers at the Eastern Maniacs in Souris at 7.30 in Jr. B.
—
Moncton at Kings County in PEI Midget AAA in Souris at 5.10.
Mid Isle and the Western Regals face-off  in Alberton at 8.00.
—
Harness racing at 12.30 at Red Shores in Charlottetown. The Island Breeders finals will highlight the card which has 14 dashes.
OCEAN 100 SCOREBOARD
MLB
World Series
Los Angeles 3 Boston 2 (18)
(Red Sox lead series 2-1)
—
CFL
Winnipeg 29 Calgary 21
—
NHL
Tampa Bay 3 Vegas 2
Carolina 4 San Jose 3 (SO)
Winnipeg 2 Detroit 1
Colorado 6 Ottawa 3
—
AHL
Toronto 4 Syracuse 1
Belleville 5 Grand Rapids 3
WB/Scranton 4 Hershey 1
Rochester 4 Utica 0
Charlotte 4 Binghamton 3 (OT)
Milwaukee 3 Cleveland 2 (OT)
Chicago 4 Texas 3
Iowa 6 Colorado 5 (OT)
San Jose 2 San Antonio 1
Tucson 8 Ontario 5
Stockton 5 San Diego 4 (SO)
—
NBA
Toronto 116 Dallas 107
Charlotte 135 Chicago 106
Golden State 128 New York 100
L.A. Clippers 133 Houston 113
Milwaukee 125 Minnesota 95
New Orleans 117 Brooklyn 115
Sacramento 116 Washington 112
—
Saturday's Games
(All Times Eastern)
MLB
World Series
Boston (TBD) at L.A. Dodgers (Hill 11-5), 8:09 p.m.
(Red Sox lead series 2-1)
—
CFL
Ottawa at Hamilton, 4 p.m.
B.C. at Saskatchewan, 7 p.m.
—
NHL
Florida at New Jersey, 12 p.m.
N.Y. Islanders at Philadelphia, 1 p.m.
Edmonton at Nashville, 3 p.m.
Washington at Calgary, 4 p.m.
Buffalo at Columbus, 7 p.m.
Winnipeg at Toronto, 7 p.m.
Montreal at Boston, 7 p.m.
Colorado at Minnesota, 8 p.m.
Chicago at St. Louis, 8 p.m.
Tampa Bay at Arizona, 9 p.m.
Pittsburgh at Vancouver, 10 p.m.
—
AHL
Manitoba at Milwaukee, 7 p.m.
Cleveland at Rockford, 7 p.m.
WB/Scranton at Hershey, 7 p.m.
Charlotte at Syracuse, 7 p.m.
Grand Rapids at Belleville, 7 p.m.
Laval at Rochester, 7:05 p.m.
Providence at Springfield, 7:05 p.m.
Lehigh Valley at Binghamton, 7:05 p.m.
Bridgeport at Hartford, 7:30 p.m.
San Jose at Texas, 8 p.m.
Colorado at Iowa, 8 p.m.
Stockton at Bakersfield, 10 p.m.
Tucson at San Diego, 10 p.m.
—
NBA
Boston at Detroit, 7 p.m.
Utah at New Orleans, 7 p.m.
Charlotte at Philadelphia, 7:30 p.m.
Chicago at Atlanta, 7:30 p.m.
Indiana at Cleveland, 7:30 p.m.
Phoenix at Memphis, 8 p.m.
Portland at Miami, 8 p.m.
L.A. Lakers at San Antonio, 8:30 p.m.
Orlando at Milwaukee, 8:30 p.m.