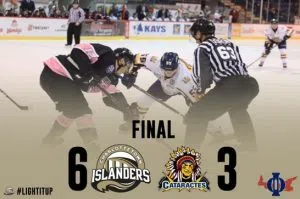 ISLANDERS BOUNCE CATARACTES
The Charlottetown Islanders opened things up in a tight game in the third period with four goals in a 6-3 effort over the visiting Shawinigan Cataractes in the Q.
Nikita Alexandrov led the charge with two goals in the final period after the Islanders have taken a 2-1 lead in the second.
Charlottetown has won three in a row and hosts Rimouski tonight at 7.00,. You can hear on Islanders Saturday Night Hockey on Ocean 100 beginning at 6.45.
—
Quebec over Acadie-Bathurst, 6-1.
Victoriaville edged Halifax, 4-3.
PANTHERS HOLD OFF HUSKIES
The UPEI men's hockey Panthers edged the # 4 ranked Saint Mary's Huskies at the Halifax Forum, 3-2 in the AUS.
That's the first loss for Saint Mary's after a 5-0 start.
Panthers goalie Simon Hofley made 41 saves.
Chad Labelle's power play goal put UPEI up 2-1 late in the second. Kameron Keilly connected on the power play early in the third which was the game winner. Both teams twice on power plays.
The Panthers at Acadia tonight with a 2-3 record.
UNB improved to 5-0 edging Acadia, 2-1.
St. F.X. went to overtime to trim Moncton, 2-1.
—
UPEI over Dalhousie in women's action, 5-1. Jolena Gillard had 2 goals an assist. Sophie Vandale and Kristen MacIntyre had a goal and assist each. Leah Byrne also scored.
BREW CREW TIES NLCS
The Milwaukee Brewers have forced a 7th and deciding game in the NLCS with a 7-2 win over the Los Angeles Dodgers.
The Brew Crew took a 4-0 lead in the first inning.
Jesus Aguilera with 3 hits, 3 RBIs and 2 runs scored.
Game 7 tonight in Milwaukee.
The winner plays the opener in the World Series on Tuesday night in Boston.
NHL
Florida got by Washington, 6-5 in a shootout in the NHL.Jonathan Huberdeau with the deciding goal. He also scored on a 2nd period power play.
Minnesota over Dallas, 3-1.All four goals in the final period. Ryan Suter scored the winner for the Wild.
Nashville stopped Calgary, 5-3.
Kevin Fiala had a goal and assist for the Predators.
PEI HOCKEY
Charlottetown trimmed the Northern Moose, 3-2 in Major Midget.
Kensington doubled Saint John, 6-3.
—
Kings County got by Mid Isle, 2-1 in PEI Midget AAA.
—
South Side edged North River, 3-2 in Junior C.
—
Prince County stopping Mid Isle, 8-7 in overtime in Bantam AAA.
RAPTORS DOWN CELTICS
The Toronto Raptors were 113-101 winners over Boston in the NBA. Kawhi Leonard had 31 points and 10 rebounds.
WOMEN RUGY PANTHERS OUT
Acadia ran over UPEI, 55-0 in the AUS women's rugby semi-final and will play St. F.X. in the final.
ON TODAY
Rimouski at Charlottetown in the Quebec Major Jr. Hockey League at 7.00.
—
UPEI at Acadia in AUS men's hockey at 7.00.
—
The women Panthers skated in Sackville, New Brunswick at Mount Allison tonight.
—
The red hot Summerside Western Capitals go for 9th straight win at Edmundston in Maritime Jr. hockey at 7.30.
—
Harness racing at 12.30 at Red Shores in Charlottetown.
The 13-dash card includes the Maritime Breeders 3 year old trot final in Race 7 where Buddy White is the favourite with Adam Merner driving.
Woodmere Finesse is the favourite with Gilles Barrieau driving in the 12th Fillies & Mares pace.
—
Major Midget hockey tonight. Saint John at the Charlottetown Pride at 7.30.
Fredericton at the Kensington Wild at 7.30.
—
Sherwood vists Moncton in Junior B.
—
Tignish at South Side in Crapaud in Jr. C starting at 7.40.
Sherwood at Summerside at 8.30.
—
The Western Regals in Moncton in Midget AAA.
—
UPEI visits Acadia in womens and mens's soccer today.
—
UNB Saint John at Holland College women at 2.00 and the men's game at 4.00.
OCEAN 100 SCOREBOARD
MLB Post-season
NL Championship Series
Milwaukee 7 L.A. Dodgers 2
(Series tied 3-3)
—
CFL
Ottawa 35 Hamilton 31
British Columbia 42, Edmonton 32
—
NHL
Florida 6 Washington 5 (SO)
Minnesota 3 Dallas 1
Nashville 5 Calgary 3
—
AHL
Cleveland 4 Utica 3
Charlotte 4 Hershey 3 (SO)
Bridgeport 4 Providence 3 (OT)
Hartford 4 Belleville 3
Rochester 5 Toronto 4 (SO)
W-B/Scranton 5 Lehigh Valley 4
Syracuse 4 Binghamton 0
Springfield 5 Laval 3
Texas 5 Iowa 4
Manitoba 4 San Antonio 1
Colorado 6 Ontario 2
San Diego 4 Milwaukee 2
Tucson 4 Rockford 3 (OT)
—
NBA
Toronto 113 Boston 101
Charlotte 120 Orlando 88
Brooklyn 107 New York 105
Memphis 131 Atlanta 117
Minnesota 131 Cleveland 123
New Orleans 149 Sacramento 129
Milwaukee 118 Indiana 101
Golden State 124 Utah 123
L.A. Clippers 108 Oklahoma City 92
—
Saturday's Games
(All times Eastern)
MLB Post-season
NL Championship Series
L.A. Dodgers at Milwaukee, 8:09 p.m.
(Series tied 3-3)
—
CFL
Montreal at Toronto, 4 p.m.
Saskatchewan at Calgary, 7 p.m.
—
NHL
Colorado at Carolina, 1 p.m.
New Jersey at Philadelphia, 1 p.m.
Buffalo at Los Angeles, 3:30 p.m.
Arizona at Winnipeg, 4 p.m.
St. Louis at Toronto, 7 p.m.
Chicago at Columbus, 7 p.m.
Montreal at Ottawa, 7 p.m.
Detroit at Florida, 7 p.m.
Tampa Bay at Minnesota, 8 p.m.
Nashville at Edmonton, 10 p.m.
Boston at Vancouver, 10 p.m.
Anaheim at Vegas, 10 p.m.
N.Y. Islanders at San Jose, 10:30 p.m.
—
AHL
Springfield at Laval, 3 p.m.
Hartford at Toronto, 4 p.m.
Hershey at Charlotte, 6 p.m.
Utica at Syracuse, 7 p.m.
Chicago at Grand Rapids, 7 p.m.
Rochester at Belleville, 7 p.m.
Bridgeport at Providence, 7:05 p.m.
Lehigh Valley at WB/Scranton, 7:05 p.m.
Cleveland at Binghamton, 7:05 p.m.
Iowa at Texas, 8 p.m.
San Jose at Stockton, 9 p.m.
Ontario at Colorado, 9:05 p.m.
Rockford at Tucson, 10:05 p.m.
Bakersfield at San Diego, 10:30 p.m.
—
NBA
Brooklyn at Indiana, 7 p.m.
Toronto at Washington, 7 p.m.
Boston at New York, 7:30 p.m.
Orlando at Philadelphia, 7:30 p.m.
Charlotte at Miami, 8 p.m.
Detroit at Chicago, 8 p.m.
Minnesota at Dallas, 8:30 p.m.
Phoenix at Denver, 9 p.m.
San Antonio at Portland, 10 p.m.
Houston at L.A. Lakers, 10:30 p.m.