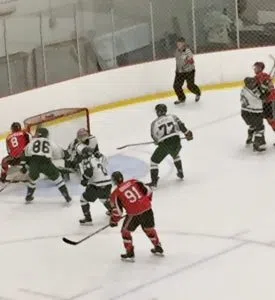 REDS TOO MUCH FOR PANTHERS
The UNB Reds built up a 5-0 lead 16 minutes into the 1st period and went on for a 6-3 victory over the UPEI Panthers. UNB was ahead 2-0 just 3 minutes into the game.
Game Star Mark Simpson scored twice.
Matt Murphy added two.
The Reds are 4-0. UPEI dips to 1-3.
Saint Mary's is on top at 5-0 with an 8-3 effort over Dalhousie.
CAPS KEEP ROLLING – 7 STRAIGHT WINS
The Summerside Western Capitals won their 7th straight as they doubled the Edmundston Blizzard, 4-2 in Maritime Junior.
The North leading Caps were led by T.J. Shea with 2 goals and an assist. That gives him a league leading 29 points.
ASTROS TAKE THE OPENER
Justin Verlander escaped a messy 5th inning where he gave up three walks as the Houston Astros went on to beat the Boston Red Sox, 7-2 in the opener of the American League Championship Series.
George Springer's 2-run single gave the Astros an early 2-0 lead.
Carlos Correa hit a go-ahead single in the 6th.
Josh Reddick and Yuli Gurriel hit home runs in the 9th.
Gurriel with a 3-run shot.
Game 2 is tonight (9.09 Atlantic).
DODGERS EVEN THINGS
Milwaukee's 12 game win streak is over. The Los Angeles Dodgers came back to edge the Brewers, 4-3 which evens the NLCS.
Justin Turner's 2-run homer in the 8th was the difference.
Now it's back to L.A. for Game 3 Monday night at Dodger Stadium.
WILDCATS, SCREAMING EAGLES WIN IN Q
Moncton over Val-d'Or, 5-2 in the Q along with Cape Breton getting by Rimouski, 3-2.
NHL
Toronto came back for a 4-2 win in Washington over the defending Stanley Cup champs. Austin Matthews scored his 10th.
Las Vegas won for the first time in 10 regulation games going back to last year's finals winning 1-0 in Philadelphia.
Montreal went to a shootout to get by Pittsburgh, 4-3.
Edmonton edged the NY Rangers, 2-1.
Ottawa over Los Angeles, 5-1.
Calgary trimmed Colorado, 3-2 in overtime.
PEI HOCKEY
Moncton blanked the Charlottetown Pride, 5-0 in Major Midget.
—
The Western Regals dorpped Mid Isle, 6-2 in PEI Midget AAA.
—
Kent, New Brunswick shutout the Eastern Maniacs, 2-0 in Jr. B.
—
Sherwood 5 North River 1 in Jr. C.
Also, Summerside dumped Tignish, 10-3.
—
HOLLAND COLLEGE LOSES 3rd STRAIGHT
The UNB Red Bombers handed the Holland Hurricanes their third straight loss in Atlantic Football, 30-16. Dylan Waugh scored two touchdowns.
RUGBY
The Hunters Corner Mudmen are Maritime Division 2 rugby champs with a 28-24 win over the Moncton Black Tide.
Ben Fredshan of Marshfield with two trys including the winner.
—
UPEI demolished Saint Mary's, 62-14 in women's rugby. Sophie Carragher made 3 trys.
—
BASKETBALL
McMaster over UPEI, 78-69 in the Mickey Place Invitational basketball tourney.
Regina ran away with a 106-77 win facing Maine.
—
UPEI women's got by Mount St. Vincent, 68-65 in the St. F.X. tournament.
SOCCER
Holland College blanked the Dal Agriculture College Rams, 6-0 in ACAA men's soccer.
The women Hurricanes over Dal, 7-1.
HARNESS RACING
Three Truths won the feature race at Red Shores in Charlottetown in 1.56/3 with Kenny Arsenault driving.
Bettim Jackie had a mile in 1.56/2 for Gilles Barrieau in the Open Mares.
ON TODAY
The Charlottetown Islanders home to the Saint John Sea Dogs at 3.00 in the Q. The Islanders trying to snap a 2 game losing streak at home.
—
Moncton visits the UPEI women Panthers at 2.00 at the MacLauchlan Arena. The Panthers are 0-1.
—
The NHL includes San Jose at New Jersey, Anaheim at St. Louis and Carolina in Winnipeg.
—
Houston at Boston for Game 2 of the American League Championship Series.
Gerrit Cole pitches for the Astros. David Price for the Red Sox. Boston down 1-0.
—
Exhibition baseball in Morell at 2.00. The Kings County All-Stars meet the Holland College Hurricanes who are preparing for the Canadian nationals at the end of the month.
—
Humber College meets UPEI in the Mickey Place Invitational in basketball at 12.00.
—
St. F.X. at UPEI in women's soccer at 2.00.
The men's game at 4.15.
—
NFL football today includes 5-0 Kansas City at New England.
—
Major Miget hockey has Kensington in Moncton.
—
Island Jr.B today with two games.
Cap-Pele visits the Western Red Wings at 2.15.
Tonight at 7.00, the Sherwood Metros are in Kensington to play the Vipers.
—
OCEAN 100 SCOREBOARD
CFL
Winnipeg 31 Saskatchewan 0
Edmonton 34 Ottawa 16
B.C. 26 Calgary 21
—
MLB
NL Championship Series
L.A. Dodgers 4 Milwaukee 3
(Series tied 1-1)
AL Champions Series
Houston 7 Boston 2
(Astros lead series 1-0)
—
NHL
Calgary 3 Colorado 2 OT
Edmonton 2 N.Y. Rangers 1
Ottawa 5 Los Angeles 1
Toronto 4 Washington 2
Vancouver 3 Florida 2
Montreal 4 Pittsburgh 3 (SO)
Boston 8 Detroit 2
Carolina 5 Minnesota 4 (OT)
Tampa Bay 8 Columbus 2
Vegas 1 Philadelphia 0
Nashville 5 N.Y. Islanders 2
Dallas 5 Anaheim 3
Chicago 4 St. Louis 3 (OT)
Buffalo 3 Arizona 0
—
AHL
Rochester 4 Bridgeport 3
Binghamton 2 Laval 1
Utica 7 Toronto 4
Belleville 6 Manitoba 2
Rockford 5 Texas 3
Charlotte 4 Syracuse 1
WB/Scranton 4 Cleveland 1
Hartford 4 Providence 3
Lehigh Valley 5 Springfield 4 (SO)
Milwaukee 5 Hershey 1
Chicago 5 Grand Rapids 1
Colorado 3 San Antonio 1
San Diego 6 Ontario 5 (SO)
San Jose 6 Stockton 4
Tucson 2 Bakersfield 1
—
MLS
Colorado 2 Minnesota United 0
D.C. United 1 FC Dallas 0
New England 2 Orlando City 0
—
Sunday's Games
(All times Eastern)
MLB Post-season
AL Championship Series
Houston at Boston, 7:09 p.m.
(Astros lead series 1-0)
—
NFL
Seattle vs Oakland at London, U.K., 1 p.m.
Chicago at Miami, 1 p.m.
Indianapolis at N.Y. Jets, 1 p.m.
Buffalo at Houston, 1 p.m.
Tampa Bay at Atlanta, 1 p.m.
Pittsburgh at Cincinnati, 1 p.m.
Arizona at Minnesota, 1 p.m.
L.A. Chargers at Cleveland, 1 p.m.
Carolina at Washington, 1 p.m.
L.A. Rams at Denver, 4:05 p.m.
Jacksonville at Dallas, 4:25 p.m.
Baltimore at Tennessee, 4:25 p.m.
Kansas City at New England, 8:20 p.m.
—
NHL
San Jose at New Jersey, 1 p.m.
Anaheim at St. Louis, 7 p.m.
Carolina at Winnipeg, 7 p.m.