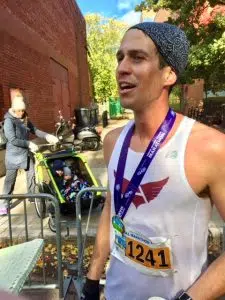 For a third straight year Stan Chaisson is the winner of the PEI Marathon. It's also the fourth time he has won the 26 mile plus event on the Island.
The Bear River native finished in 2 hours 34 minutes and 40 seconds.
He says the weather was great for the race including the north wind which blew against his back most of the way. The temperature was cool but the sun was shining.
The 36-year old was just about a minute off  the record he set for the course in 2009.
Chaisson also won in 2016 and 2017.
Jamie Lamond of Halifax was second (2.42.41).
Ian Holdway of Halifax was third (2.46.45).
Amber Spriggs of Charlottetown the top female finisher (3.11.29).
Half Marathon
The winner of the half marathon Vincent Merriam of Stratford had a time of 1 hour 16 minutes and 22 seconds.
The top female was Britney Benoit of Halifax (1.31.02).
10 K Pursuit
The 10 K won by Chris Watson of Huntsville, Ontario (35.29)
5 K
The 5 K won by Andrew Wong of Charlottetown (17.21)
Over 2,500 participants in the 15th PEI Marathon and 300 volunteers helped out.