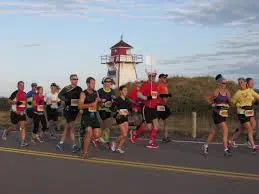 A chilly day and windy for the 15th PEI Marathon.  The temperature was only plus 2 and felt like minus 1 as the main marathon began at Brackley Beach.
There's also the half marathon, the 10 K and 5 K events, plus walks and the corporate team relay.
Myrtle Jenkins Smith is the organizer and she asks people driving in the route area to be cautious.
There are road closures along the route including Charlottetown.
The record for the marathon was set in 2009 by Islander Stan Chaisson in 2 hours 32 minutes and 58 seconds.
Chaisson also won last year about 3 minutes slower.
Jen Nicholson set the women's record as well in 2009 in 2 hours, 53 minutes and 22 seconds.