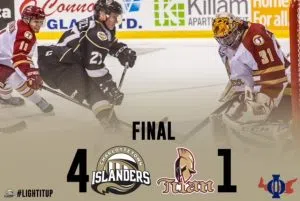 ISLANDERS WIN ON THE ROAD
The Charlottetown Islanders scored twice in the first and twice more in the third to stop the Acadie-Bathurst Titan, 4-1 in the Q.
Liam Peyton, William Sirnan , Hunter Drew, and Daniel Hardie for the Isles.
Evan MacKinnnon was set up by Noah Dobson for the only Titan goal.
The Islanders now 4-5-1 and host Saint John on Sunday at 3.00.
Halifax shutout Saint John, 4-0.
Victoriaville got by Cape Breton, 5-4 in a shootout.
Rouyn Noranda slipped by Moncton, 6-5 in overtime.
CAPS STREAK CONTINUES
The first place Summerside Western Capitals keep rolling.
The Caps dropped last place St. Stephen on the road, 7-2 for their 7th straight win.
T.J. Shea with three goals and an assist. He leads the MHL with 26 points. Conor MacEachern added two goals and Kallum Muirhead also scored.
BREW CREW STAYS HOT
The Milwaukee Brewers made it 12 straight wins as they held off the Los Angeles Dodgers, 6-5 to open the National League Championship Series.
Relief pitcher Brandon Woodruff homered in the 3rd inning for the Brew Crew.
Manny Machado homered and had 3 RBIs for the Dodgers who made four errors.
Hard throwing Josh Hader came on for the save.The second game is this evening in Milwaukee (5.09 Atlantic).Hyun-Jin Ryu faces Wade Milely in the pitching match-up.
Houston opens up the ALCS in Boston tonight. (9.09 Atlantic). Chris Sale and Justin Verlander in the pitching match-up.
PANTHERS LOSE HOME OPENER
St. Thomas blanked the UPEI women's Panthers, 4-0 to put a dent in the Panthers home opener.
Lauren Henman scored three times for the Tommies.
MEN'S P'S HOST UNB REDS
UNB over Moncton, 5-1 in men's hockey. The Reds visit the UPEI Panthers tonight at 7.00.
Acadia doubled Dalhousie, 6-3.
Saint Mary's edged St. F.X., 3-2.
BASKETBALL
The Mickey Place Memorial Basketball Tournament began at UPEI with Holland College stopping McMaster, 118-110.
The Panthers lost 92-69 to Regina.
—
UPEI over Cape Breton, 77-65 in the St. F.X. Women's Invitational.
ON TODAY
Harness racing in Charlottetown today at Red Shores with first post at 12.30. The 13-dash card incoludes the 12th race feature with Rose Run Quest among the favourites with Marc Campbell behind.
—
UNB at UPEI in AUS men's hockey at 7.00. The Panthers look for a second straight win following a 6-5 effort over Moncton on Wednesday.
—
Edmundston at Summrside in Maritime Jr. Hockey at 7.00 at the Eastlink Arena. The Caps seeking an 8th straight win.
—
The Charlottetown Pride visits Moncton in Major Midget.
Saint John at the Kensington Wild at 7.30.
—
Kent, New Brunswick at the Eastern Maniacs in Souris at 7.00 in Jr. B.
—
Mid Isle visits the Western Regals in Alberton at 7.30 in Island Midget AAA.
—
Sherwood at North River at 7.50 and Tignish at Summerside at 8.10 in Jr. C.
—
The Holland Hurricanes take on the UNB Red Bombers in AFL football in Fredericton.
—
The Mickey Place Memorial Basketball Tournament continues with Maine playing Regina at 4.00 and the Panthers hosting McMaster at 8.00 at UPEI.
—
UPEI women's Panthers play Mount St. Vincent in the St. F.X. Women's Invitational.
—
UPEI hosts Saint Mary's at 2.00 in women's rugby.
—
OCEAN 100 SCOREBOARD
MLB Post-season
Milwaukee 6 L.A. Dodgers 5
(Brewers lead series 1-0)
—
CFL
Hamilton 34 Toronto 20
—
AHL
Grand Rapids 6 Hershey 3
Charlotte 4 Utica 3
Springfield 7 Lehigh Valley 0
Providence 4 Hartford 3 (OT)
Laval 5 Binghamton 2
Manitoba 2 Belleville 1
Iowa 4 Texas 3 SO
Colorado 2 San Antonio 1
Stockton 5 Ontario 4 (OT)
Tucson 3 San Diego 2
—
NBA Pre-season
Charlotte 123 Dallas 118
Detroit 129 Cleveland 110
San Antonio 100 Orlando 81
Washington 140 Guangzhou Long-Lions 111
Brooklyn 113 New York 107
Denver 98 Chicago 93
Houston 121 Memphis 103
Miami 119 Atlanta 113
Milwaukee 143 Minnesota 121
Portland 118 Sacramento 115
L.A. Lakers 119 Golden State 105
—
MLS
Los Angeles FC 4 Houston 2
—
Saturday's Games
(All Times Eastern)
CFL
Saskatchewan at Winnipeg, 2 p.m.
Ottawa at Edmonton, 5 p.m.
B.C. at Calgary, 8 p.m.
—
MLB
NL Championship Series
L.A. Dodgers at Milwaukee, 4:09 p.m.
(Brewers lead series 1-0)
AL Champions Series
Houston at Boston, 8:09 p.m.
(Series tied 0-0)
—
NHL
Vegas at Philadelphia, 1 p.m.
Edmonton at N.Y. Rangers, 1 p.m.
Los Angeles at Ottawa, 2 p.m.
Detroit at Boston, 3 p.m.
Carolina at Minnesota, 6 p.m.
Toronto at Washington, 7 p.m.
Columbus at Tampa Bay, 7 p.m.
Vancouver at Florida, 7 p.m.
Pittsburgh at Montreal, 7 p.m.
N.Y. Islanders at Nashville, 8 p.m.
Anaheim at Dallas, 8 p.m.
St. Louis at Chicago, 8:30 p.m.
Buffalo at Arizona, 9 p.m.
Calgary at Colorado, 10 p.m.
—