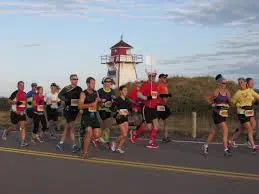 Runners from around the world are on the island this week for the 15th annual PEI Marathon.
There are ten event categories as part of this year's Marathon.
It got Saturday with the Kids Fox Trot at UPEI Alumni Canada Games Place.
One change they've made to ensure safety for all the participants, is stagger the start times for the various events.
Drivers are asked to be extra cautious on Sunday with the participants on roadways, and road closures.
Everyone's encouraged to come to the finish line Sunday morning to cheer on the participants.