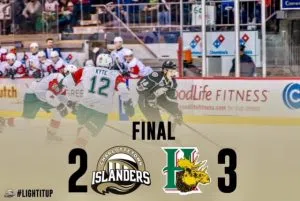 MOOSEHEADS EDGE ISLANDERS
The Charlottetown Islanders had one get away on them last night on game heard on Ocean 100.
The Halifax Mooseheads went away with a 3-2 win at the Eastlink Centre as Patrick Kyte scored 13 seconds into the 3rd followed by a Samuel Asselin power play goal at 1.06. Halifax went up 3-1.
The teams were tied, 1-1 heading into the final 20 minutes.
Rookie star Lukas Cormier scored his first goal in the Q for the Isles. Thomas Casey also scored in the final period to make it close.
The Islanders host Saint John Wednesday night at 7.00.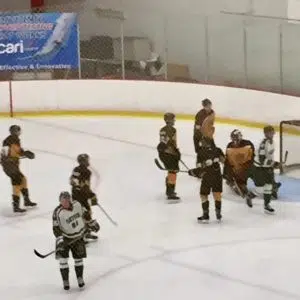 KEILLY LEADS PANTHERS
Kameron Keilly showed his scoring ability last night as the UPEI Panthers ran away with a 10-2 pre-season victory over the visiting Dalhousie Tigers. The sophomore forward had three goals and set up 2 others for a 5 point night in the rout.
Keilly got his big night going early in the second period scoring his first goal and giving the Panthers a 4-0 lead.
Half of the Panthers goals came in the second half of the game.
UPEI has its 48th home opener on Wednesday facing Moncton at 7.00.
—
The UNB Reds shutout the UPEI women's Panthers, 1-0 on a goal by Katherine Chadwick with just over 11 minutes left in the third in the exhibition game.
WILD GETS FIRST WIN
The Kensington Wild ran over the Northern Moose, 7-2 in major midget.
The Wild now 1-1.
NHL
NHL pre-season saw the Leafs win again, 3-2 over Buffalo.
Montreal trimmed Ottawa, 3-2.
Las Vegas got by San Jose, 5-4 in a shootout.
Detroit edged Boston, 4-3 in overtime.
Tampa Bay dropped Nashville, 5-2.
CANES DROP UNB IN AFL
Holland College is 2-0 in Atlantic football with a second straight win over UNB Saint John downing the Seawolves, 35-6.
CFL
Saskatchewan held off Toronto, 30-29.
BC went to overtime to beat Hamilton, 35-32.
Ottawa dropped Edmonton, 28-15.
BASEBALL
The Toronto Blue Jays were 5-2 winners over Tampa Bay as Rowdy Tellez hit a two-run homer and Thomas Pannone got his 4th win.
Aaron Hicks walk-off double in the 11th gave the New York Yankees a 3-2 win over Baltimore. Hicks and Luke Voit also homered. The Yankees become the 6th team with 250 home runs in a season.
Cleveland edged Boston, 5-4 in 11 innings.
Michael Brantley won it with a walk-off single.
COLLEGE BASEBALL
Holland College took two from Dalhousie in Halifax in college baseball, 15-3 and 12-2 to improve to 8-0.
SOCCER
Holland College blanked UNB Saint John, 1-0 in women's soccer while the men's Canes were held to scoreless tie with UNB.
Defending national champions Cape Breton blanked UPEI, 8-0 in women's soccer and 3-0 in the men's game.
TIGER LOOKING FOR TOUR WIN
Tiger Woods has a three shot lead heading into the final round of the Tour Championship in the PGA in Atlanta. Woods has not won since 2013. He had 65 on Saturday.
HARNESS RACING
Czar Seelster won the 11th race feature in 1.54/2 with Kenny Arsenault behind in harness racing in Charlottetown.
Corey MacPherson drove four winners.
ON TODAY
The Summerside Western Capitals will try to shake off a two game losing streak when they visit the Miramichi Timberwolves in Maritime Junior hockey this afternoon.
Miramichi has lost two in a row.
—
The Kings County Baseball League finals continue with the Stratford Athletics hosting the Northside Brewers in Game 3 at 2.00 at MacNeill Field. The Brewers are leading, 2-0 in the best of 7.
—
UPEI visits St. F.X. in AUS soccer while Holland College is at St. Thomas in Fredericton in women's and men's play.
—
UPEI faces Saint Mary's in the AUS women's rugby semi-finals.
—
UPEI at Mount A in women'as exhibition hockey.
—
The women Panthers play Mount A in exhibition basketball.
—
Holland College wraps up the regular season hosting St. F.X. in baseball in a twin bill this afternoon at Memorial Field. The Hurricanes are 8-0.
—-
Harness racing at 1.00 in Summerside. The 13 dash card includes Mando Fun as the favorite in the 12th race feature with David Dowling driving.