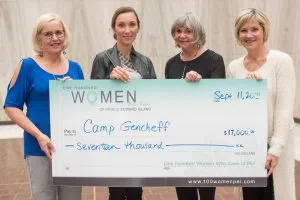 Camp Gencheff has received $17,000 from the group 100 Women Who Care PEI which will go toward the youth respite program at the camp that is open year round for children and adults with disabilities aged 6 to 74.
Jennifer Lawton, President of the Board for Camp Gencheff made a presentation this month to the group that includes 170 women. The presentation was made at Confederation Centre of the Arts.
Camp Gencheff was selected along with Island Nature Trust and The Adventure Group to make a five minute presentation with funding being awarded to a local charitable organization.
Camp Gencheff operates about 120 days a year including summer camps and respites.
This year Camp Gencheff has partnered with the Autism Society of PEI with a pilot project which will allow children with autism to take part.