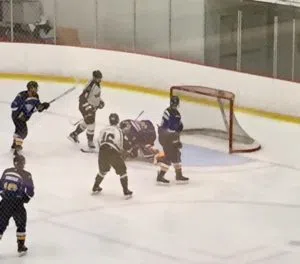 PANTHERS OPEN PRE-SEASON HOCKEY
The UPEI Panthers took to the ice for their first pre-season game in AUS hockey in what was a scoreless contest until the final period.
Moncton scored three times including an empty netter to pull out a 3-1 victory. Bobby Zinkan scored for the Panthers six minutes into the period which tied the game briefly, 1-1. Maxime St-Cyr scored the winner at 12.45 just after the Panthers had killed off a penalty. Victor Beaulac iced the win for the Aigles Bleu with an empty netter.
—
The women Panthers won 4-2 at St. Thomas.
Taylor Gillis scored twice.Rachel Colle and Maria Clinton also picked up goals.
CAPS WIN OPEN ON ROAD
The Summerside Western Capitals won their season opener in the Maritime Junior League running away with a 7-2 victory in Bridgewater over the South Shore Lumberjacks. Cam Roberts with four goals and an assist.
Brodie MacArthur had five assists. TJ Shea, Brodie MacMillan and Kallum Muirhead added single goals.
Summerside at Yarmouth tonight.
—
Saint John stopped the Kensington Wild, 6-4 as the Major Midget season began.
—
ISLANDERS INTO U13 SEMI-FINALS
PEI's Capital Disrtrict Islanders are in the semi-finals at the Atlantic Under 13 baseball championship in Summerside.
They'll play Kennebacasis Valley at 4.00.
The Islanders improved to 3-0 with a 9-0 shutout over Fredericton. Jake MacKinnon fired a three hitter.
Kennebacasis Valley advanced with a 9-8 edging of host Summerside.
YANKEES BLANK THE JAYS
The New York Yankees ripped the rookie-laden Toronto Blue Jays, 11-0. Masahiro Tanaka got his 12th win.
Aaron Judge returned from his broken wrist injury for the Yanks but only played in the outfield and did not hit.
—
Boston was throttled 8-0 by the NY Mets. Noah Syndergaard got his 12th win on a 3 hitter.
—
Cleveland's magic number is 1 to clinch the A.L. Central although the Indians lost 5-4 to Detroit. Josh Donaldson got his first homer as member of the Tribe.
—
TWO WINS FOR SOCCER PANTHERS
The UPEI Panthers remain unbeaten in soccer.
The men's team blanked Mount Allison, 4-0 and the women's team came back for a 2-1 win over the Mounties.Jennifer Balderson and Laura Clark scored in the second half after Mount A led, 1-0.
In the men's game Sam Smiley had a goal and assist.
Mohammed Jaber with the winner.
ON TODAY
The PEI Colt Stakes on today at Red Shores in Charlottetown with post time at 1.00 this afternoon and 7.00 tonight.
The afternoon card has the 2 year old colts and fillies.
The 3 year olds will be highlighted tonight.
The Race 12 feature this evening sees Rose Run Quest as the 5-2 favourite with Marc Campbell driving.
It's also Panther Night Out with student-athletes from UPEI taking part in the evening.
—
The Holland College Hurricanes see their first Atlantic Football League action this season with the opener at UNB Saint John this afternoon.
—
The Hurricanes host Mount St. Vincent in soccer at 1.00 in the women's and 3.00 in the men's. Both Canes teams are 2-0.
—
The UPEI Panthers entertain St. F.X. in AUS women's rugby at 2.00
The men's rugby Panthers at UNB.
—
Stock car racing at Oyster Bed Speedway at 6.00 tonight featuring the OBS Pro Stock 100 lap open race.
—
UPEI is hosting its inaugural Cross Country Invitational today beginning at 11.00 in Victoria Park.  There's a junior division, AUS, junior high and senior high division.
OCEAN 100 SCOREBOARD
CFL
B.C. 32 Montreal 14
—
MLB
American League
N.Y. Yankees 11 Toronto 0
Chicago White Sox 8 Baltimore 6
Detroit 5 Cleveland 4
Oakland 2 Tampa Bay 1 (10 innings)
Kansas City 8 Minnesota 4
Seattle 5 L.A. Angels 0
National League
Philadelphia 14 Miami 2
Atlanta 10 Washington 5
Chicago Cubs 3 Cincinnati 2
Milwaukee 7 Pittsburgh 4
L.A. Dodgers 3 St. Louis 0
San Francisco 2 Colorado 0
Interleague
N.Y. Mets 8 Boston 0
Arizona 4 Houston 2
Texas 4 San Diego 0
—
Saturday's Games
(All Times Eastern)
CFL
Calgary at Hamilton, 4 p.m.
Ottawa at Saskatchewan, 9:30 p.m.
—
MLB
American League
Detroit (Fulmer 3-11) at Cleveland (Clevinger 11-8), 3:10 p.m.
Toronto (Reid-Foley 1-3) at N.Y. Yankees (Sabathia 7-6), 4:05 p.m.
Oakland (TBD) at Tampa Bay (TBD), 6:10 p.m.
Chicago White Sox (Lopez 5-9) at Baltimore (Ramirez 1-5), 7:05 p.m.
Minnesota (De Jong 0-0) at Kansas City (Kennedy 1-8), 7:15 p.m.
Seattle (Ramirez 2-3) at L.A. Angels (Heaney 9-9), 9:07 p.m.
National League
L.A. Dodgers (Hill 8-5) at St. Louis (Gant 7-5), 1:05 p.m.
Washington (Rodriguez 2-2) at Atlanta (Teheran 9-7), 1:05 p.m.
Cincinnati (Reed 0-2) at Chicago Cubs (Lester 15-6), 4:05 p.m.
Miami (Hernandez 2-7) at Philadelphia (Velasquez 9-11), 7:05 p.m.
Pittsburgh (Nova 8-9) at Milwaukee (Davies 2-5), 7:10 p.m.
Colorado (Marquez 12-9) at San Francisco (Bumgarner 5-6), 9:05 p.m.
Interleague
N.Y. Mets (TBD) at Boston (Porcello 16-7), 4:05 p.m.
Arizona (Godley 14-9) at Houston (Morton 14-3), 7:10 p.m.
Texas (Jurado 2-5) at San Diego (Erlin 3-6), 8:40 p.m.