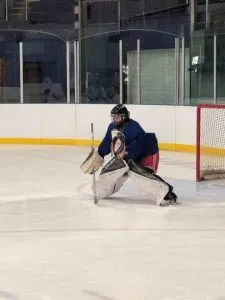 ISLANDERS WIN, CAPS LOSE IN X HOCKEY
The Charlottetown Islanders continued to tune up for the opening of the Quebec Major Jr. Hockey League season by blanking the Saint John Sea Dogs, 7-0 on the road.
Left winger Drew Johnston scored twice while rookie defenseman Lukas Cormier continued to impress. The first round pick had a goal and assist.
Dakotas Lund-Cornish picked up a 27 save shutout.
The Islanders and Sea Dogs play in Evangeline this afternoon as the exhibition season continues.
The Islanders now 2-2-1.
—
Montague's Hunter McIntyre scored the eventual winner against his old team, the Summerside Western Capitals as the Amherst Ramblers built up a 4-1 in the second lead and held off the Caps, 4-3 the rest of the way in the pre-season MHL game.
—
Summerside born Billy Bridges will be with Team Canada in sledge hockey again this winter. It's his 21st season with the national team which was announced last week.
UPSET AT US OPEN
Japan's Naomi Osaka pulled a major upset winning the U-S women's Open title 6-2,6-4 over Serena Williams.
Williams took issue with the officiating and picked up three code violations in the second set.
ASTROS STAY HOT
The Houston Astros made it seven straight wins as they toppled the Boston Red Sox, 5-3 in a battle of division leaders.
The Yankees over the Mariners in Seattle, 4-2.
Cleveland outlasted the Toronto Blue Jays, 9-8 using a 7 run 5th inning. Randal Grichuk homered twice for the Jays while Rowdy Tellez got his first big league home run in the loss.
PANTHERS & HURRICANES OPEN SEASONS
University sports returned with UPEI settling for a scoreless tie at Memorial in men's soccer.
The women's Panthers tied the Seahawks, 1-1.Andrea Mahoney with the UPEI goal.
Acadia stung UPEI, 116-12 in women's rugby.
—
Holland College women routed the Dal Agriculture College, 10-0 in soccer.
The men's Hurricanes blanked the Rams, 5-0.Ehadb Moustafa with three goals.
In baseball Holland College twice over Saint Mary's, 10-4 and 7-6.
—
CFL
The Hamilton Tiger-Cats dropped the Toronto Argos, 36-25 in CFL football.
Saskatchewan over Winnipeg, 32-27.
Edmonton stopped Calgary, 48-42.
NFL
The first Sunday in the new NFL season with the New England Patriots hosting Houston.
Other games include Buffalo at Baltimore, Pittsburgh at Cleveland, San Francisco at Minnesota and Dallas at Carolina.
HARNESS RACING
Keep Coming with David Dowling in the bike won the feature in harness racing at Red Shores in an upset in 1.55/4.
Gilles Barrieau drove four winners on the card.
ON TODAY
The Charlottetown Islanders meet the Saint John Sea Dogs at 3.00 in a pre-season game at the Evangeline Rec Centre. The Isles are 2-2-1 in exhibition games.
—
The Kings County Baseball League semi-finals continue. Northside Brewers meet the Morell Chevies at 1.00 at the Church Field. The series is tied, 1-1 n the best of 5.
Stratford has a 2-0 lead in the other series and will host the Peakes Bombers at 3.00.
—
UPEI wraps up an opening weekend in soccer at Memorial in St. John's.
Holland College will be at Crandall University in Moncton in women's and men's soccer.
The Hurricanes baseball team has a doubleheader at Acadia this afternoon.
—
Harness racing at Red Shores in Summerside with post time at 1.00 on the13-dash card. A good feature in the 12th with Run Rose Quest, Czar Seelster and Euchred all matched up.
—
OCEAN 100 SCOREBOARD
CFL
Hamilton 36 Toronto 25
Saskatchewan 32 Winnipeg 27
Edmonton 48 Calgary 42
—
MLB
American League
Cleveland 9 Toronto 8
Houston 5 Boston 3
Oakland 8 Texas 6
Tampa Bay 10 Baltimore 5
L.A. Angels 12 Chicago White Sox 3
Kansas City 4 Minnesota 1
N.Y. Yankees 4 Seattle 2
National League
Pittsburgh 5 Miami 1
Cincinnati 7 San Diego 2 (7 innings)
Milwaukee 4 San Francisco 3
N.Y. Mets 10 Philadelphia 5
Colorado 4 L.A. Dodgers 2
Atlanta 5 Arizona 4 (10 innings)
Washington 10 Chicago Cubs 3 (1st game)
Washington 6 Chicago Cubs 5 (2nd game)
Interleague
Detroit 4 St. Louis 3
—
MLS
D.C. United 1 New York City FC 1
Sporting Kansas City 1 Orlando City 0
Portland 2 Colorado 0
—
Sunday's Games
(All Times Eastern)
NFL
San Francisco at Minnesota, 1 p.m.
Houston at New England, 1 p.m.
Pittsburgh at Cleveland, 1 p.m.
Cincinnati at Indianapolis, 1 p.m.
Jacksonville at N.Y. Giants, 1 p.m.
Tampa Bay at New Orleans, 1 p.m.
Buffalo at Baltimore, 1 p.m.
Tennessee at Miami, 1 p.m.
Kansas City at L.A. Chargers, 4:05 p.m.
Dallas at Carolina, 4:25 p.m.
Seattle at Denver, 4:25 p.m.
Washington at Arizona, 4:25 p.m.
Chicago at Green Bay, 8:20 p.m.
—
MLB
American League
Cleveland (Clevinger 11-7) at Toronto (Pannone 1-1), 1:07 p.m.
Baltimore (Cobb 5-15) at Tampa Bay (TBD), 1:10 p.m.
Kansas City (Kennedy 1-8) at Minnesota (Littell 0-2), 2:10 p.m.
L.A. Angels (Heaney 8-9) at Chicago White Sox (Lopez 5-9), 2:10 p.m.
Texas (Jurado 2-4) at Oakland (Cahill 6-3), 4:05 p.m.
N.Y. Yankees (Sabathia 7-6) at Seattle (Ramirez 2-3), 4:10 p.m.
Houston (Keuchel 11-10) at Boston (Porcello 16-7), 8:05 p.m.
National League
Philadelphia (Velasquez 9-10) at N.Y. Mets (deGrom 8-8), 1:10 p.m.
Chicago Cubs (Montgomery 4-5) at Washington (Fedde 1-3), 1:35 p.m.
Miami (Brigham 0-1) at Pittsburgh (Williams 12-9), 1:35 p.m.
San Francisco (Bumgarner 5-5) at Milwaukee (Davies 2-5), 2:10 p.m.
L.A. Dodgers (Wood 8-6) at Colorado (Anderson 6-7), 3:10 p.m.
Atlanta (Toussaint 1-1) at Arizona (Ray 5-2), 4:10 p.m.
San Diego (Nix 2-3) at Cincinnati (Reed 0-2), 4:10 p.m.
Interleague
St. Louis (Gant 6-5) at Detroit (Fulmer 3-10), 1:10 p.m.