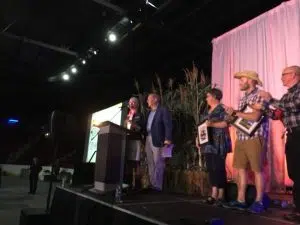 The Grass Roots and Cowboy Boots fundraiser for the Prince County Hospital Foundation was another huge success.
$1.7 million was raised for the hospital in Summerside. The grand total was $1, 701, 041.
It was the 10th anniversary of the event that has raised over $7 million since its inception.
Newcap Radio  together with the Confederation Bridge presented $30-thousand to the event.
The fundraiser is organized by Warren Ellis and his family each year.
Over 16-hundred people attended Grass Roots and Cowboy Boots which was co-hosted by Ocean 100's Kerri Wynne MacLeod.