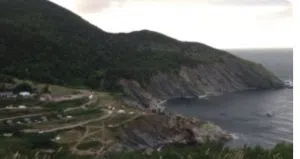 A 62-year-old Island woman was seriously injured yesterday evening in an accident that occurred on Meat Cove Rd. shortly before 6 p.m. on Cape Breton Island.
The woman was moving the motorcycle she and a family member had been travelling on, and she lost control of the bike, went over a nearby cliff, and fell 30 metres or 99 feet  to the ground below.
A family member slid down the cliff to assist the seriously injured woman.
Two volunteer fire departments, one of which had a high-angle rescue team, assisted with the rescue of the woman, who was eventually airlifted to Halifax for treatment.