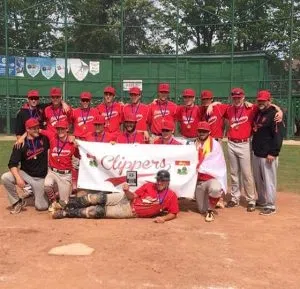 CLIPPERS WIN ATLANTIC BALL TITLE
The Cardigan/Northside Clippers are the Atlantic AA Under 18 baseball champs.
The Clippers downed Mount Pearl, 12-0 in the final in Cornebrook to claim the title.
It's the fourth tournament the Clippers have won this year.
Ben MacDougall was named the tournament MVP while Jack MacKenzie was the top pitcher.
CAPITAL DISTRICT WINS PEI BANTAM
The Capital District Islanders won the Tanner Craswell Memorial PEI Under 15 championship on Sunday going 4-0 in the Bantam AAA tournament.
JAYS TAKE SERIES OVER MARLINS
Teoscar Hernandez hit a three run homer and rookie pitcher Sean Reid-Foley earned his first major league win as the Toronto Blue Jays took 2 of 3 in Miami stopping the Marlins, 6-1.
Both Boston and New York lost.
The Red Sox went down 8-0 facing the Chicago White Sox David Palka  hit a pair of homers. James Shields picked up the win.
The Yankees fell 11-7 to Detroit. Nick Castellanos and Victor Reyes homered for the Tigers.
Boston still 7.5 up in the A.L. East.
Josh Donaldson says leaving the Toronto Blue Jays was "difficult to the extreme" but he's ready for his new challenge in Cleveland although a timetable for his return from a calf injury has not been determined.
MEN'S SOCCER PANTHERS WIN AGAIN
The UPEI men's soccer Panthers look ready for a big season after going 4-0 in exhibition games.
The Panthers blanked Mount Allison, 6-0 in the Mulligan Cup.
CFL
The Saskatchewan Roughriders upended the Winnipeg Blue Bombers, 31-23 in the CFL.
HAPPY BIRTHDAY TURK!
Yesterday was Las Vegas Golden Knights head coach Gerard Gallant's 55th birthday. The Knights rookie camp opens on Thursday.
ON TODAY

Harness racing at Red Shores in Summerside.
First post is at 1.00 for the 13-dash card.
Slide Guitar with driver David Dowling is the 5-2 morning line favourite in the 12th race feature.
—
Holland College women take on U of Maine-Fort Kent at the Terry Fox Complex in Cornwall in exhibition soccer at 11 a.m.
—
OCEAN 100 SCOREBOARD
CFL
Saskatchewan 31, Winnipeg 23
—
MLB
Interleague
Toronto 6, Miami 1
American League
Detroit 11, N.Y. Yankees 7
Chicago White Sox 8, Boston 0
Kansas City 9, Baltimore 1
Texas 18, Minnesota 4
Oakland 8, Seattle 2
Tampa Bay 6, Cleveland 4
Houston 4, L.A. Angels 2
National League
Chicago Cubs 8, Philadelphia 1
Milwaukee 9, Washington 4
Cincinnati 6, St. Louis 4, 10 innings
N.Y. Mets 4, San Francisco 1
Colorado 7, San Diego 3
L.A. Dodgers 3, Arizona 2
Atlanta 5, Pittsburgh 1
—
MLS
D.C. United 3, Atlanta United FC 1
—
Monday's Games
(All Times Eastern)
CFL
Edmonton at Calgary, 3 p.m.
—
MLB
American League
Detroit (Fulmer 3-10) at Chicago White Sox (Lopez 5-9), 2:10 p.m.
Minnesota (Stewart 0-1) at Houston (Keuchel 10-10), 2:10 p.m.
N.Y. Yankees (Sabathia 7-5) at Oakland (Cahill 5-3), 4:05 p.m.
Kansas City (Junis 7-12) at Cleveland (Plutko 4-4), 4:10 p.m.
Tampa Bay (TBD) at Toronto (Stroman 3-8), 7:07 p.m.
L.A. Angels (TBD) at Texas (Springs 0-0), 8:05 p.m.
Baltimore (Ramirez 1-5) at Seattle (Ramirez 1-3), 9:10 p.m.
National League
St. Louis (Flaherty 8-6) at Washington (Scherzer 16-6), 1:05 p.m.
Philadelphia (Velasquez 9-9) at Miami (Urena 4-12), 1:10 p.m.
Cincinnati (Harvey 6-7) at Pittsburgh (Williams 11-9), 1:35 p.m.
Chicago Cubs (Hamels 9-9) at Milwaukee (Davies 2-5), 2:10 p.m.
San Francisco (Bumgarner 5-5) at Colorado (Anderson 6-7), 3:10 p.m.
N.Y. Mets (deGrom 8-8) at L.A. Dodgers (Wood 8-6), 8:10 p.m.
San Diego (Mitchell 0-3) at Arizona (Godley 14-7), 8:10 p.m.
Interleague
Boston (TBD) at Atlanta (Toussaint 1-0), 1:05 p.m.