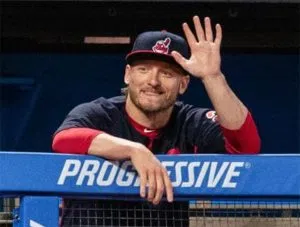 DONALDSON JOINS CLEVELAND
Josh Donaldson joined his new team mates in Cleveland but did not play as he continues to recover from a left calf injury. The Tribe lost 5-3 to Tampa Bay as Blake Snell fired his 17th win.
Donaldson is wearing #27. He wore #20 in Toronto.
Donaldson's return date to the Indians line-up is still up in the air. Cleveland will be in Toronto for a four game series beginning Thursday.
The former Jays third baseman used his own program to recover from a 2017 right calf injurywith approval from the club. He was said to be frustrated with the Jays high performance staff in his recovery attempt.
Donaldson had shoulder and left calf issues all of this year and has not played since May 28th.
 JAYS LOSE IN MIAM
The Jays lost 6-3 in Miami as Marco Estrada continued to struggle on the mound. Justin Smoak homered in his 4th straight game for the Jays.
Masahiro Tanaka got his 10th win as the New York Yankees edged Detroit, 2-1 on a Gleyber Torres home run in the 5th. Dellin Betances became the first relief pitcher in history to have 100 strikeouts in five straight seasons.
Boston dropped Chicago, 6-1. Eduardo Rodriguez had 12 strikeouts recording his 12th win.
Eduardo Nunez, Jackie Bradley Jr. and Ian Kinsler all homered.
The National League West has the best race going in baseball. Matt Kemp hit a 3 run homer as the Dodgers got by Arizona, 3-2 and that ties them for first.
Colorado is a half game back with a 4-2 effort over San Diego.
SUMMERSIDE LOSES PLAYOFF IN NATIONALS
The Summerside Eagles lost 2-0 to the Saskatoon Angels in the playoffs at the Canadian Senior Men's Fastpitch in St. Croix, Nova Scotia. The Eagles held to one hit.
CAPS WIN OVER PICTOU COUNTY
The Summerside Western Capitals wound up with a split of their home & home exhibition series with Pictou County with a 7-4 win in New Glasgow over the Crushers. Cam Roberts scored twice.
SOCCER PANTHERS BLANK HURRICANES
The UPEI men's soccer Panthers blanked the Holland College Hurricanes, 4-0 in the Mulligan Cup in exhibition play. UPEI meets Mount Allison at 3.00 today.
HARNESS RACING
Rose Run Quest won the featured 12th race at Red Shores in Charlottetown with Marc Campbell driving by a neck over Czar Seelster with Euchred coming in third. The mile in 1.55/1.
Adkins Hanover with David Dowling driving won in 1.54/2 in the 9th beating Elm Grove Kaboom to the wire.
ON TODAY
Stock Car racing at 2.00 at Oyster Bed Speedway.
The OBS Pro Stock and the Outlaws Super Series will be featured.
—
The Kensington Horsemen's Club has its annual matinee harness races at 1.00 this afternoon.
—
OCEAN 100 SCOREBOARD

MLB
Interleague
Miami 6 Toronto 3
—
American League
N.Y. Yankees 2 Detroit 1
Boston 6 Chicago White Sox 1
Houston 7 L.A. Angels 3
Tampa Bay 5 Cleveland 3
Kansas City 5 Baltimore 4
Texas 7 Minnesota 4
Seattle 8, Oakland 7
National League
N.Y. Mets 2 San Francisco 1 (11 innings)
Chicago Cubs 7 Philadelphia 1
Atlanta 5 Pittsburgh 3
Cincinnati 4 St. Louis 0
Colorado 4 San Diego 2
Washington 5 Milwaukee 4
L.A. Dodgers 3 Arizona 2
—
MLS
Vancouver 2 San Jose 1
Los Angeles FC 4 Toronto FC 2
Montreal 3 New York 0
Seattle 3 Sporting Kansas City 1
Philadelphia 2 Orlando City 2
Portland 1 New England 1
Columbus 2 New York City FC 1
FC Dallas 4 Houston 2
Real Salt Lake 6 LA Galaxy 2
—
Sunday's Games
(All Times Eastern)
CFL
Winnipeg at Saskatchewan, 3 p.m.
—
MLB
Interleague
Toronto (TBD) at Miami (Lopez 2-4), 1:10 p.m.
American League
Detroit (Boyd 8-12) at N.Y. Yankees (Lynn 8-9), 1:05 p.m.
Boston (Johnson 4-3) at Chicago White Sox (Shields 5-15), 2:10 p.m.
Baltimore (Hess 3-8) at Kansas City (Lopez 0-4), 2:15 p.m.
Minnesota (Moya 3-0) at Texas (Colon 7-11), 3:05 p.m.
Seattle (Hernandez 8-12) at Oakland (Jackson 4-3), 4:05 p.m.
Tampa Bay (TBD) at Cleveland (Carrasco 16-7), 4:10 p.m.
L.A. Angels (Ohtani 4-1) at Houston (Cole 12-5), 8:05 p.m.
National League
Chicago Cubs (Lester 14-5) at Philadelphia (Nola 15-3), 1:35 p.m.
Milwaukee (Guerra 6-9) at Washington (Scherzer 16-6), 1:35 p.m.
Cincinnati (DeSclafani 7-4) at St. Louis (Weaver 7-11), 2:15 p.m.
N.Y. Mets (Syndergaard 9-3) at San Francisco (Stratton 9-7), 4:05 p.m.
Arizona (Buchholz 7-2) at L.A. Dodgers (Buehler 6-4), 4:10 p.m.
Colorado (Freeland 12-7) at San Diego (Nix 2-2), 4:10 p.m.
Pittsburgh (Nova 7-9) at Atlanta (Teheran 9-7), 5:05 p.m.