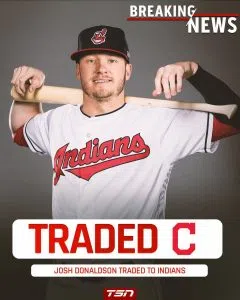 JAYS DEAL DONALDSON & GRANDERSON
The Toronto Blue Jays have severed ties with Josh Donaldson sending the 2015 American League MVP to the Cleveland Indians plus cash in exchange for a player to be named later.
Donaldson has been hampered by a left calf muscle rupture most of this year.
The Jays will pick up $2.7 million in the remainder of his contract.
Reports say they will receive minor league right handed pitcher Julian Merryweather as the player to be named. He underwent Tommy John surgery in the spring but has reached Triple A. He's 26.
Toronto also sent veteran outfielder Curtis Granderson to Milwaukee for outfield prospect Demi Orimoloye
(pronounced Orr-mah-loy) who was born in Nigeria and raised in Orleans, Ontario.
He has 12 home runs, 55 RBIs and a .247 average in Class-A Carolina.
JAYS COMEBACK TO EDGE MARLINS
The Jays came back in the 9th last night to beat Miami, 6-5 on a Justin Smoak grand slam in the 9th.
Boston lost 6-1 in Chicago to the White Sox as Yoan Moncada and Matt Davidison homered for the pale hose.
The Yankees dropped Detroit, 7-5 as Gleyber Torres drove in the winner in the 8th.
Boston is 7.5 on New York this morning.
The Yankees obtained shortstop Adeiny Hechavarria from Pittsburgh at the deadline and officially acquired outfielder Andrew McCutcheon from San Francisco.
Oakland is 1.5 back of Houston in the A.L. West with a 7-5 win in Seattle while the Astros lost 3-0 to the Los Angeles Angels.
Hot St. Louis won again, 12-5 over Cincinnati to move 3.5 back of the Cubs who lost 2-1 in 10 innings to Philadelphia.
EAGLES WIN AT NATIONALS
The Summerside Eagles are in the playoffs at the Canadian Senior men's fastpitch championships in St. Croix, Nova Scotia with a 6-2 win over Guysborough.
CAPS LOSE OPENING PRE-SEASON TILT
The Summerside Western Capitals lost their first exhibition game, 6-3 at Pictou County.
Marc Richard scored twice and Seth Morris had the other for the Caps who play in Pictou this afternoon.
Summerside has signed Callum MacPherson who played on the Telus Cup Midget winning Cape Breton West Islanders in 2017.
MORE SIGNINGS
Speaking of signings…UPEI graduate Emma Martin has been drafted by Montreal in the Canadian Women's Hockey League.
And Chepstow, PEI's Kelsey MacIntosh is the new Technical Director for Ringette Canada leaving his role with Baseball Canada.
REDBLACKS UPENDED
CFL football……Montreal surprised East leading Ottawa, 21-11 Friday night.
ON TODAY
Summerside Caps visit Pictou County Crushers in pre-season MHL junior "A" hockey at 4.30.
—
Harness racing at Red Shores in Charlottetown.
Post time is 6.00 for the 13-dash card.
Rose Run Quest is the favourite in the 12th race feature with Marc Campbell driving.
—
Exhibition soccer in the Mulligan Cup.
The UPEI men's Panthers host the Holland College Hurricanes at 7.00 this evening.
—
OCEAN 100 SCOREBOARD
CFL
Montreal 21 Ottawa 11
—
MLB
Interleague
Toronto 6 Miami 5
American League
N.Y. Yankees 7 Detroit 5
Cleveland 3 Tampa Bay 0
Minnesota 10 Texas 7
Chicago White Sox 6 Boston 1
L.A. Angels 3 Houston 0
Kansas City 9 Baltimore 2
Oakland 7 Seattle 5
National League
Milwaukee 4 Washington 1
Philadelphia 2 Chicago Cubs 1 (10 innings)
Pittsburgh 3 Atlanta 2
St. Louis 12 Cincinnati 5
L.A. Dodgers 3 Arizona 2
San Diego 7 Colorado 0
San Francisco 7 N.Y. Mets 0
—
Saturday's Games
MLB
Interleague
Toronto (Estrada 7-10) at Miami (Chen 5-9), 7:10 p.m.
American League
Detroit (TBD) at N.Y. Yankees (Tanaka 9-5), 4:05 p.m.
Boston (Rodriguez 11-3) at Chicago White Sox (Rodon 6-3), 7:10 p.m.
L.A. Angels (Pena 1-4) at Houston (TBD), 7:10 p.m.
Tampa Bay (Snell 16-5) at Cleveland (Bieber 8-2), 7:10 p.m.
Baltimore (Bundy 7-13) at Kansas City (Fillmyer 2-1), 7:15 p.m.
Minnesota (Berrios 11-9) at Texas (Gallardo 7-3), 8:05 p.m.
Seattle (Paxton 10-5) at Oakland (Mengden 6-6), 9:05 p.m.
National League
N.Y. Mets (Matz 5-11) at San Francisco (Holland 7-8), 4:05 p.m.
Chicago Cubs (Hendricks 10-10) at Philadelphia (Eflin 9-5), 7:05 p.m.
Milwaukee (Anderson 9-7) at Washington (Strasburg 7-7), 7:05 p.m.
Pittsburgh (Archer 4-7) at Atlanta (Gausman 9-9), 7:10 p.m.
Cincinnati (Castillo 7-11) at St. Louis (Poncedeleon 0-0), 7:15 p.m.
Colorado (Gray 10-7) at San Diego (Erlin 3-4), 8:40 p.m.
Arizona (Corbin 10-5) at L.A. Dodgers (Kershaw 6-5), 9:10 p.m.
—
MLS
Sporting Kansas City at Seattle, 4 p.m.
New York at Montreal, 7:30 p.m.
Philadelphia at Orlando City, 7:30 p.m.
Portland at New England, 7:30 p.m.
Houston at FC Dallas, 8 p.m.
Los Angeles FC at Toronto FC, 8 p.m.
New York City FC at Columbus, 8 p.m.
LA Galaxy at Real Salt Lake, 10 p.m.
San Jose at Vancouver, 10 p.m.