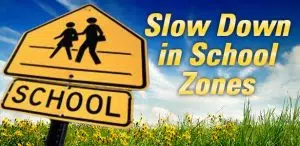 Charlottetown Police are asking motorists to slow down in school zones with the school year beginning next Thursday.
All schools zones are marked 30 km per hour and fines are doubled for those who are caught speeding in those zones.
Drivers going over the speed limit is an increasing problem in Charlottetown and other communities.
Police are also asking you to watch out for pedestrians at cross walks and to stop your vehicle when the school bus red lights are activated.
Be cautious of students getting on and off the buses.