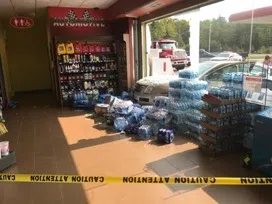 RCMP won't be laying any charges after a car went through the glass wall at the Stratford Petro-Can Quick Stop on Saturday morning around 10.00.
A couple from the U-S who have been vacationing on the Island were in the car.
RCMP Constable Jamie Parsons says woman who was near the car was taken to the Queen Elizabeth Hospital for precautionary measures but she didn't appear to suffer any serious injuries.
The driver told police that he was trying to park in front of the store but as he went to brake his foot slipped off and hit the gas pedal.