GOLD CUP & SAUCER GOES TONIGHT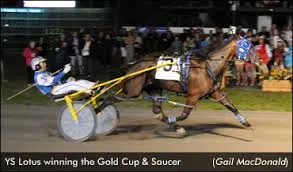 The 59th Guardian Gold Cup & Saucer will go tonight marking the second time since 2015 the finale of Old Home Week racing has gone on a Sunday.
First post for the evening card at 6.00.
The afternoon card of racing postponed from Saturday will have post time at noon.
There's free admission for the races today and parking will be available in the main parking lot at Red Shores.
ISLANDERS OPEN PRE-SEASON
The Charlottetown Islanders have their first pre-season match in the Q this afternoon at 3.00 at the APM Centre in Cornwall. The Islanders will meet the Moncton Wildcats.
Two intrasquad games yesterday won by Team Black.
5-2 in the morning game over Team White. Keith Getson among the goal scorers.
Team Black won the second game, 7-4. Isles first round pick defenseman Lukas Cormier tallied for Team White.
CAPS SIGN FORMER ISLANDER
The Summerside Western Capitals will have former Islander left wing Sam Meisenheimer in the training camp. He split last year with Charlottetown and Chicoutimi and had 8 goals and 22 points for the Islanders.
YANKEES & RED SOX PICK UP WINS
Toronto Blue Jays rookie Sean Reid-Foley got roughed up in his second start allowing 6 earned runs as the NY Yankees outlasted the Jays, 11-6. The Yankees had four home runs including Giancarlo Stanton's 32nd.
Boston won again, 5-2 over Tampa Bay. David Price hurled his 13th victory and J.D. Martinez got his 38th homer.
The Oakland A's are starting to look like the 2002 Moneyball Athletics. Oakland is tied with Houston for first in the A.L. West winning 7-1 over the Astros. Houston led Oakland by 12 games on June 18th.
OCEAN 100 SCOREBOARD
CFL
Toronto 24, B.C. 23
Edmonton 40, Montreal 24
—
MLB
American League
N.Y. Yankees 11, Toronto 6
Baltimore 4, Cleveland 2
Oakland 7, Houston 1
Boston 5, Tampa Bay 2
Detroit 7, Minnesota 5
Kansas City 3, Chicago White Sox 1
L.A. Angels 11, Texas 7
National League
N.Y. Mets 3, Philadelphia 1
Miami 7, Washington 5, 10 innings
Pittsburgh 3, Chicago Cubs 1
Cincinnati 7, San Francisco 1
Colorado 5, Atlanta 3, 10 innings
St. Louis 7, Milwaukee 2
San Diego 7, Arizona 6
Interleague
Seattle 5, L.A. Dodgers 4, 10 innings
—
MLS
Seattle 5, LA Galaxy 0
New York 2, Vancouver 2, tie
Philadelphia 2, New York City FC 0
Montreal 2, Chicago 1
FC Dallas 2, Minnesota United 0
Sporting Kansas City 3, Portland 0
Real Salt Lake 2, Houston 1
Toronto FC 1, San Jose 1, tie
—
Sunday's Games
(All Times Eastern)
CFL
Calgary at Saskatchewan, 7 p.m.
MLB
American League
Tampa Bay (Castillo 3-2) at Boston (Velazquez 7-0), 1:05 p.m.
Toronto (Borucki 2-2) at N.Y. Yankees (Happ 13-6), 1:05 p.m.
Baltimore (Ramirez 1-4) at Cleveland (Clevinger 8-7), 1:10 p.m.
Detroit (Turner 0-1) at Minnesota (Odorizzi 5-7), 2:10 p.m.
Kansas City (Fillmyer 1-1) at Chicago White Sox (Lopez 4-9), 2:10 p.m.
L.A. Angels (Barria 8-7) at Texas (Colon 7-10), 3:05 p.m.
Houston (Verlander 11-8) at Oakland (Manaea 11-8), 4:05 p.m.
National League
San Francisco (Suarez 4-8) at Cincinnati (Castillo 6-10), 1:10 p.m.
Chicago Cubs (Quintana 10-9) at Pittsburgh (Taillon 9-9), 1:35 p.m.
Colorado (Marquez 10-9) at Atlanta (Sanchez 6-3), 1:35 p.m.
Miami (Urena 3-12) at Washington (Gonzalez 7-9), 1:35 p.m.
Milwaukee (Chacin 12-4) at St. Louis (Gant 5-4), 2:15 p.m.
Arizona (Greinke 12-8) at San Diego (Kennedy 0-2), 4:10 p.m.
N.Y. Mets (Vargas 2-8) vs. Philadelphia (Pivetta 7-9) at Williamsport, Pa., 7:10 p.m.
Interleague
L.A. Dodgers (Kershaw 5-5) at Seattle (Elias 2-0), 4:10 p.m.