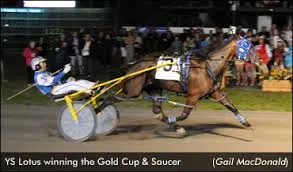 GOLD CUP & SAUCER GOES TONIGHT
Rockin In Heaven with driver J Harris is the 5-2 morning line favourite for tonight's Guardian Gold Cup & Saucer with a purse of $60,000.
Rockin' In Heaven leaves from Post 1.
There are eight entries in the big race.
Bet On Brett and driver Louis Roy will leave 4th at 3-1.
Post time is 7.00 at Red Shores.
The afternoon card has been moved to 1.00 on Sunday afternoon due to the weather.
GOLD CUP CONSOLATION
The James "Roach" MacGregor Memorial Gold Cup & Saucer Consolation last night. The race with a purse of $20,000.
Governor's Plate winner Czar Seelster the winner in 1.53 flat. Kenny Arseault in the bike beating In Spades and Newbie to the wire.
TRACK RECORD FOR 3 YEAR OLD FILLIES
R Es Shabla tied the track record for 3 year old fillies in the Lady Slipper with a mile in 1.55. Mike McGuigan was behind.
PEI OPENS WITH WINS AT EASTERN CANADIANS
The PEI Eastern Eagles won two games Friday at the Under-19 Eastern Canadian women's softball championship in Moncton.
PEI over Nova Scotia, 4-2 and 7-0 facing New Brunswick.
YANKEES COMEBACK…..RED SOX STAY HOT
The Toronto Blue Jays built up a 4-0 lead in the first inning but wound up losing 7-5 to the Yankees in New York. It was rained shortened affair that ended in the 7th.
Neil Walker hit a three-run homer which put New York up 5-4. Giancarlo Stanton launched a monster homer in the 7th that handed the Yankees the win.
Jays starting pitcher Marcus Stroman had a blister problem pop up again. Manager John Gibbons says he have to go on the disabled list.
Boston is 51 games over .500 at 87-36 with a 7-3 comeback win over Tampa Bay.
Xander Bogaerts had a 2 run triple in the first and a pair of doubles.
Oakland is a game behind Houston in the A.L. West winning 4-3 in 10 on a Matt Olson lead off homer as the A's edged the Astros.
Cleveland edged Baltimore 2-1 as Carlos Carrasco improved to 15-6 which ties him for most wins in the A.L. Jose Ramirez hit his 37th homer.