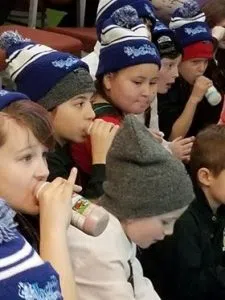 Jack Frost Children's Winterfest is just around the corner with favorite events for the whole family, along with brand new programming.
The annual festival runs February 16 – 18 in Charlottetown with the ever popular Outdoor Snow Kingdom at the city's Event Grounds, this year featuring an all-new Space Odyssey theme…the Indoor Playland at Eastlink Centre with multiple bouncies, a petting zoo, and performances by magicians, buskers, Alvin and the Chipmunks, and Paw Patrol's Chase and Skye…and a brand new indoor venue at the Murphy Community Centre with The Game Zone, for kids 8 years and older with over 20 video game consoles and other interactive games.
A pancake breakfast is a new community event at The Confederation Court Mall, in partnership with the Sherwood-Parkdale Lions Club. Only 350 breakfast tickets will be available, aiding a local Island charity.
The Frosty Night is a new, free, outdoor party along Victoria Row featuring the return of pyrotechnical fireworks to the Jackfrost Festival, along with live music performances and buskers.
Upstreet Brewery is home to the 1st annual 'Jack Frost After Dark', both an indoor and outdoor event for the 19+ crowd, with live entertainment, "the coolest ice bar by the Canadian Snow Sculpture team", buskers, and PEI's first hobby horse competition.
More details and advance ticket information can be found at jackfrostfestival.com